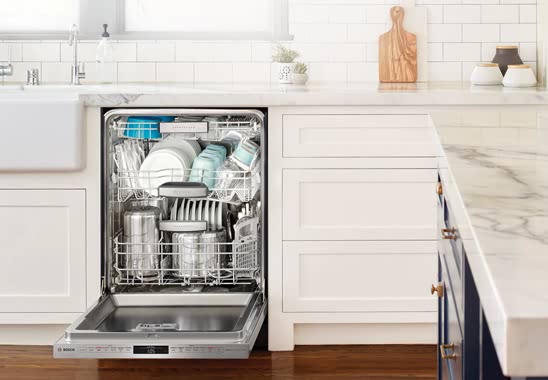 It's September, when demands on our time increase with getting children to school and after-school sports, lessons and other activities. Even those of us who don't have youngsters have increased social and sports activities at this time of year. We all have better things to do than kitchen clean-up, which is one reason "everyone" seems to be installing Bosch Dishwashers in their Edmonton homes.
If you haven't considered the advantages such a small change might make in your life, we need to talk.
Ways Bosch Dishwashers Can Make Edmonton Life Easier
If you're limping along with the same old dishwasher, it's time to upgrade to one of the Bosch Dishwashers best suited for your busy Edmonton schedule. Bosch Dishwashers' MyWay rack for utensils and added space in the upper rack frees the lower rack for pots and pans. You can pack everything into one wash, set the full-colour, easy-to-read dial and go about your life.
Bosch Dishwashers Pack Other Benefits
Other advantages your Edmonton neighbors are discovering with Bosch Dishwashers include:
Easy glide racks so smooth your children can help load and unload;
Bosch Dishwashers are the quietest you can add to your Edmonton home;
Water softener that reduces spots and eliminates the need to wipe glasses as you put them away.
Isn't Life Too Short To Lengthen Kitchen Clean Up?
Bosch Dishwashers are helping your Edmonton neighbors get out the door faster in the mornings and ready for the easy chair more quickly in the evenings. Isn't it time you stopped by Avenue Appliance in Edmonton to choose a Bosch Dishwasher to make your life more efficient and easier?