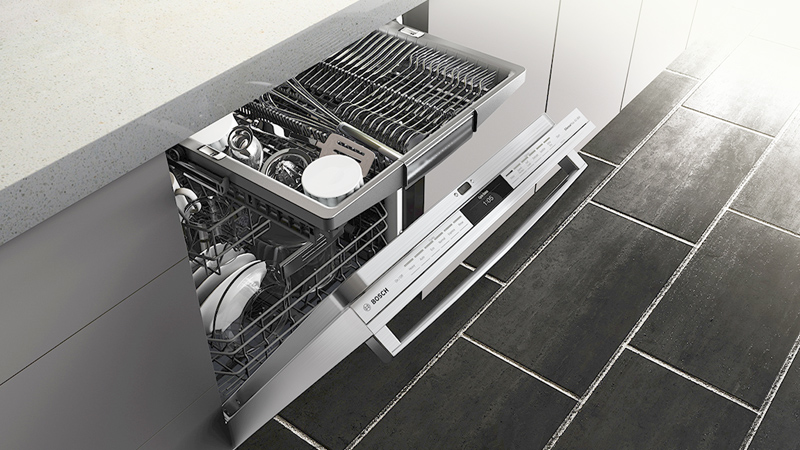 Dishes are one of those household tasks that are never ending. No matter how often you do them, it seems there's always one more! That's just one of the reasons you need to look at Bosch dishwashers for your Edmonton home. If you have the right appliance for the job, it doesn't feel like work and if your dishwasher has a large capacity, there's always room for that one last piece.
Bosch Dishwashers Have Lots of Room for Dishes
One of the biggest problems with dishwashers is they're not very versatile when it comes to loading capacity. The top rack is usually too low and the bottom rack just doesn't hold enough to accommodate everything. Bosch dishwashers have taken loads to a whole new level with many features that make the capacity far greater than most of their competition. Inside a Bosch dishwasher you'll find:
Three racks instead of two so you can load those small dishes without using up valuable space in regular top rack of a dishwasher! On the 500 series and up, there is the convenience of RackMatic® flexibility on the middle rack so you can raise or lower the rack to accommodate your dishes.
Adjustment is made easily, even when the rack has a load, so you aren't spending as much time trying to create the perfect jigsaw puzzle to fit all of your dishes in!
Quiet and Stylish Design Perfect for Any Kitchen
Bosch dishwashers are designed so they can be installed flush to allow you to incorporate them right into your custom cabinetry in your Edmonton home. What is even better is that the technology used in the design makes these dishwashers so quiet that Bosch had to include a light so you'd know when it was running. Dishwashers that virtually disappear in your kitchen and won't be loud and noisy, now who wouldn't want one of those?
True Quality That's Been Tested
When it comes to ensuring your dishwasher is built to last, Bosch doesn't mess around. Every dishwasher has to pass through 485 quality checks before it's allowed to leave the factory. When you get your new dishwasher, you'll likely see some water spots when you look inside. This is because they are tested with water running to ensure there are no leaks and all of the spray functions are top notch!
These are just a few of the many reasons to love Bosch dishwashers. We would love to show you even more features that these dishwashers have that will make doing dishes in your Edmonton home easy. Contact us today at Avenue Appliance to learn even more and to stop in and see how amazing Bosch dishwashers are.