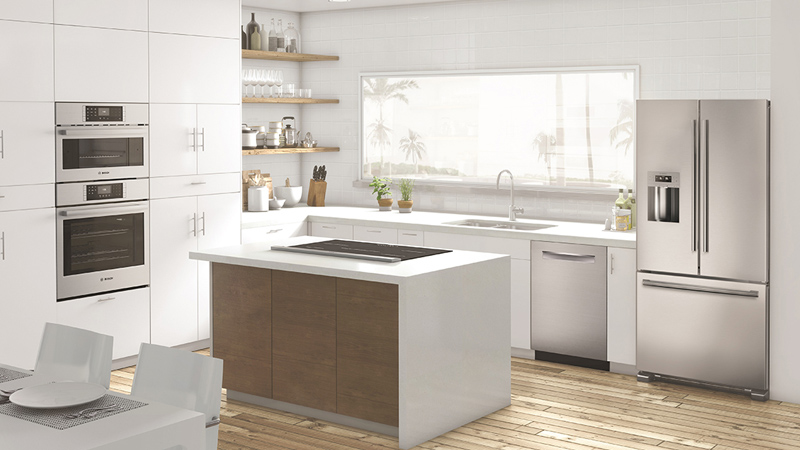 It's not too often that you can find appliances that look like masterpieces and perform excellently. With innovative and exacting German design and features designed to improve your life to make feeding your Edmonton family and friends easier, Bosch appliances over-deliver in both style and functionality. With the kitchen suites they offer, you can get everything you need for your kitchen and we promise you'll be glad you did once you see what Bosch appliances have to offer!
The Fabulous Benchmark Kitchen Suite
Wouldn't it be great to own a range that boils things insanely fast and can simmer at a low temperature that perfectly develops the flavour in your favourite dishes? With the Benchmark suite from Bosch appliances, you can! Your hectic work week won't seem so bad when you throw on dinner and boil water twice as fast as a standard range! How about an oven with a telescoping rack so when you're rushing to get food on the table, you don't rub your arms up against the wall of your oven? Bosch appliances have incredible engineering for wear-hard performance, but they also think of the little things that help make your life that little bit easier. Even the fridges in this series are designed with humidity controls and stop the transfer of food flavours and odours so the food you buy lasts longer and tastes better. Don't forget about the dishwashers that quite literally do everything but load and empty themselves!
High Performing 800 Series Kitchen Suites
A kitchen suite from Bosch's high-end 800 series is something culinary dreams are made of. With a wall oven, cooktop, microwave, dishwasher and fridge, your only problem is going to be which piece you want to use first and which one will be your favourite! Bosch wall ovens come with neat features like smooth-closing doors that can be pull-down or side-opening to better suit your cooking style. Your new dishwasher can even wash your finest china and best silverware because Bosch has added a delicate wash cycle just for your most precious utensils and dinnerware. Imagine hosting a dinner party and actually being able to enjoy after-dinner drinks with your guests instead of hand-washing your fragile cookware.
Kitchen suites from Bosch appliances will make your Edmonton home stylish and functional, not to mention you'll be the envy of all your friends and family. At Avenue Appliance, we are dedicated to finding you great appliances for your kitchen that not only look awesome, but perform great to help add some precious time to your busy Edmonton lifestyle. Contact us today or visit our showroom to see everything Bosch appliances has to offer you!