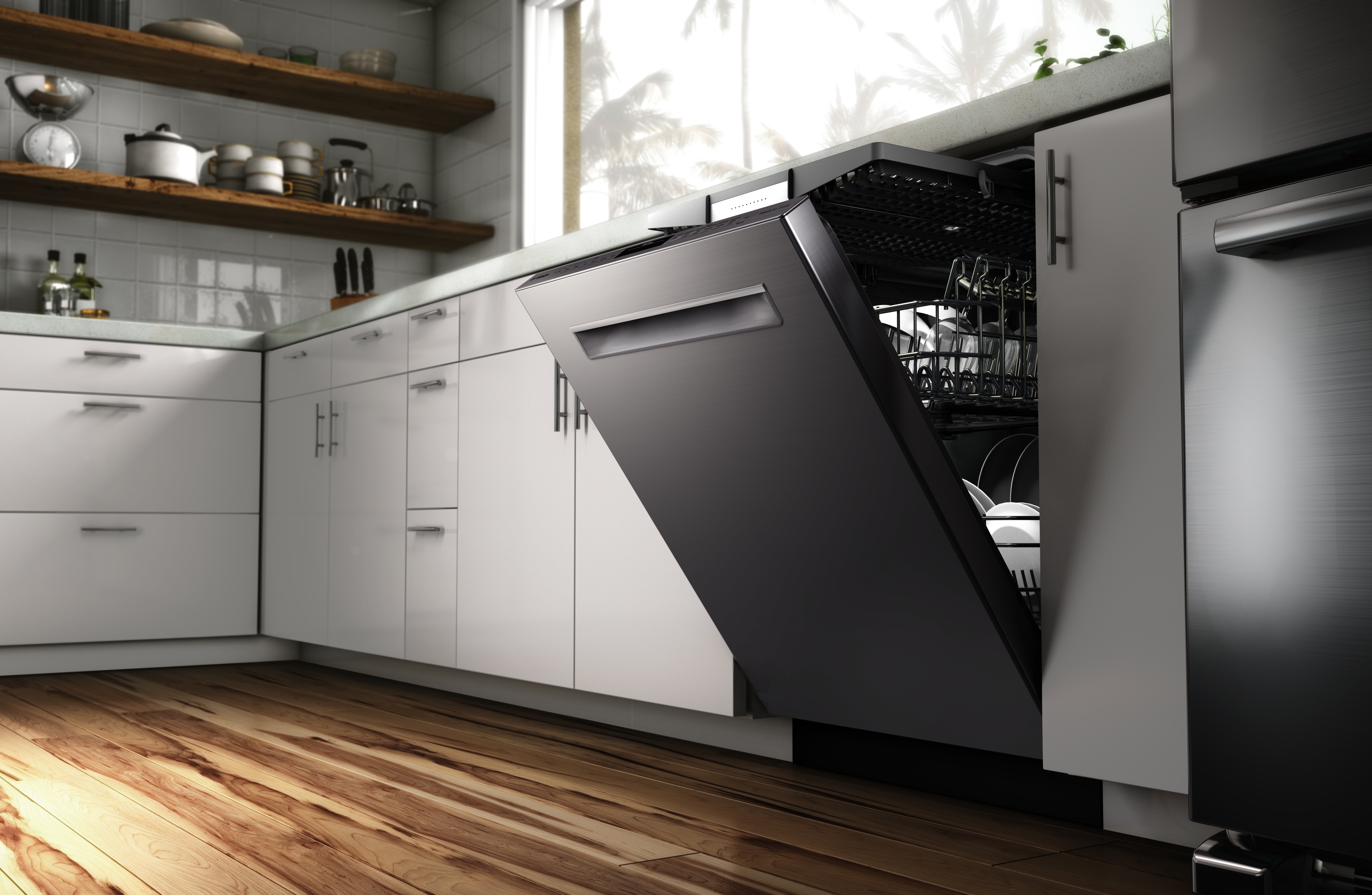 Dishwashers are a staple appliance in the kitchen because of all the time and effort they save. However, a poor quality dishwasher can often cause more harm than good. You need a superior quality dishwasher to provide you with outstanding results every time. Bosch is an industry leader in kitchen appliances, with over 100 years of experience. Bosch's reputation for quality, functionality, and reliability has kept keep them a top brand over the years. We're confident a Bosch dishwasher will be the perfect addition to your kitchen.
Unique Functions for the Perfect Clean
Bosch understands that your dishwasher needs to accommodate different load sizes and every model comes with a large range of height adjustments and adjustable racks to make your dishwasher versatile. To ensure your dishes are sparkling clean every time, detergent trays are specially fitted to optimize detergent dissolving. There is also a host of other features, including the ExtraScrub Option for when especially soiled dishes need extra attention. The best part is you won't hear a thing while your dishwasher is doing all this work. Bosch builds their dishwashers with 18 unique sound-reducing technologies, making it virtually silent.
Stylish Design
Bosch dishwashers get the job done and look good doing it. Choose from a variety of sleek designs with a range of colours, finishes, and handle styles. They even do customizable paneling to fit your current surroundings if you want your dishwasher to seamlessly fit into your kitchen. Touch control technology with a full-color TFT display is easy to read and navigate, providing you with any information you may need about your dishwasher.
Built to Last
In addition to being sleek and stylish, Bosch dishwashers are consistently reviewed by Consumer Reports as being the most durable dishwasher on the market. Bosch's German engineers designed the dishwasher for reliability, from the tough stainless steel exterior down to its AquaStop leak protection and self-latching doors, you can only win with Bosch.
Energy Efficient
The automatic washing programs built into each machine adjust water usage and temperature to suit the level of soiling, saving water and energy. Further, Bosch builds dishwashers with patented technology designed to convert moisture into heat energy, meaning the dishwasher is able to dry faster with less energy.
Functionally innovative, energy efficient and stylish, contact us at Avenue Appliance in Edmonton today for more information on Bosch dishwashers.