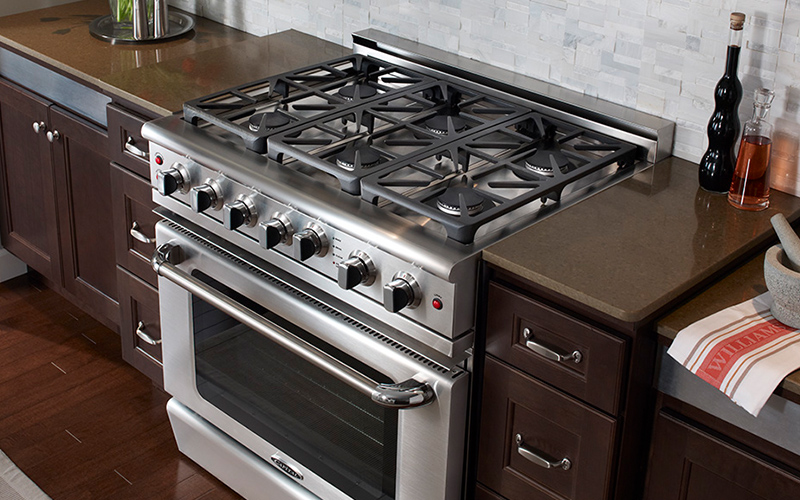 If you often cook for large groups of people, you need a range that can stand up to the task. Capital Ranges offer top-of-the-line quality and functionality, with all the benefits of a professional range but designed and priced for home use. Get the best of both worlds with Capital Ranges for your home kitchen.
Capital Ranges: Customizable Models
Capital Ranges start with one of three customizable models: the Culinarian, a Gas Open Burner range; the Precision, a Gas Sealed Burner; or the Connoisseurian, a versatile Dual Fuel model. From there, decide on your preferred cooking capacity by changing the number of burners and size of your range-top – there are 30 to 60-inch options. Beyond your range-top, there are many different configurations available, including a variety of handy grilling surfaces. You can include a range-top Thermo Griddle, BBQ Grill Burner, Power Wok, or oven rotisserie depending on your culinary preferences. Both efficient and powerful, sealed or open burners are available. While open burners yield faster cooking times, sealed burners are easier to clean – the choice is yours. Ensuring you get everything cooked in time, many models can take a 26x18 sheet pan, and contain up to five rack positions for maximum versatility.
Saving you money
Capital Ranges are very affordable compared to other ranges of similar quality on the market. With a variety of oven and range fuels to choose from, including natural gas, liquid propane, or electricity, you have control over fuel usage. Certain models are even dual fuel, featuring a gas range and electric oven, giving you greater cooking power on top and superior control inside. The BTU output for open burners is very high compared to similar models, decreasing your cooking time and increasing fuel efficiency.
Foodie features
Going above and beyond expectations, each Capital Range model is available with a variety of time-saving, meal-enhancing features. For example, the Moist Mode feature circulates moisture into the oven during roasting, preventing your meat from drying out. Also, many models have a temperature probe for meat built right in, so you do not have to worry about disturbing your dish. For higher temperature cooking, glass enclosed broilers ensure even heat distribution and easy cleanup. Built-in warming drawers keep prepared dishes table-ready.
For a powerful range of the features you want, choose a Capital Range. For Capital Ranges in Edmonton, contact Avenue Appliance today!