When it comes to looking at appliances,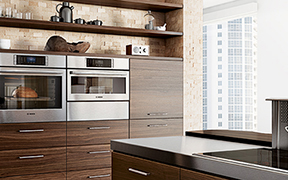 Avenue Appliance recommends that customers purchase top-of-the-line products to complete their dream kitchens. This is why Avenue Appliance is promoting the new Bosch premium "Bench Mark" series of appliances in Edmonton, Alberta. Bosch is a high-quality line of kitchen appliance products that includes everything from dishwashers, cooktops, wall ovens, ranges & stoves, refrigerators, washers and dryers.
The new "Bench Mark" series offers sleek, fully-flush design. Bosch's Marketing Manager Zack Elkin describes the ovens as "perfect from an ergonomic point of view." Bosch appliances seamlessly integrate into a multitude of kitchen styles. Built by German engineers, these appliances are not only efficient and durable but also unique in their cultural design. Bosch stands behind their product and has a great service network set up in the Edmonton area.
Avenue Appliance features several of the best appliance brands on the market including Bosch, Miele, Liebherr, Marvel, Blue Star and AGA to suit all kinds of individual taste. Avenue Appliance is also currently offering several specials on Miele and Bosch appliances that can be viewed directly on the Avenue Appliance website.
About Avenue Appliance
Avenue Appliance has been providing Edmonton, AB with top of the line products since 1970. At Avenue Appliance, they have a reputation for consistently recommending premium, European-style appliances and are always happy to help customers discover which products will suit their kitchen and creative style the best. Avenue Appliance is a supplier of premium Bosch appliances. Edmonton's Avenue Appliance is always working hard to be able to offer customers the most reliable products and services. To learn more about Avenue Appliance and the difference dedicated customer service makes, visit their online website at: http://www.avenueappliance.ca/.