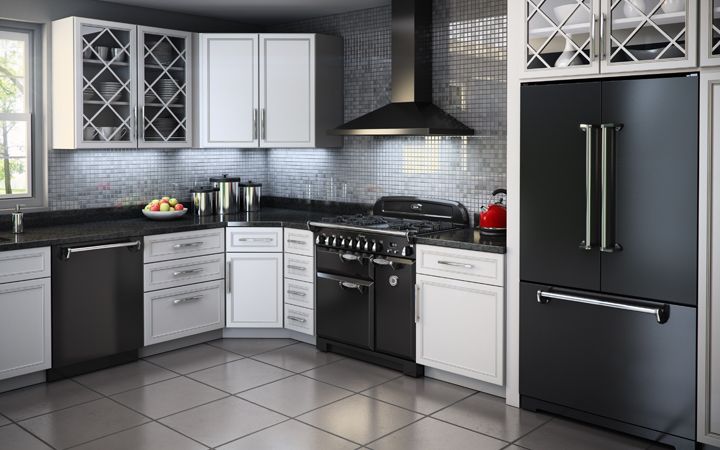 Never before have design trends for kitchens been such an eclectic mix. In fact, it's safe to say that what's trending hottest is designing your kitchen to match your tastes, lifestyle and usage. With custom colours and styles available from many top appliance brands and innovative features to suit even the most storied chefs, be sure to mix and match the appliances for your high-end kitchen to complete your trendy design.
Galley Kitchens
Make your galley-style kitchen feel more spacious by choosing smooth lines and low profiles for cabinets and appliances. Limit the use of colour if you prefer a look that seems less cluttered. This may be a great opportunity to match your appliance colours closely to your cupboards to create a built-in effect. Stainless steel appliances with fully-flush profiles also work well and allow you a little extra hip room in what can otherwise be a tight space.
U-Shaped Kitchens
With this type of kitchen you have a little more wiggle room, literally and in your design possibilities. Classic and traditional looks might be well-suited to standard white or black and stainless steel appliances. If you're more daring and want a pop of colour, hot red, bright blue or your choice of 188 other colours might be the trend you seek.
Wide Open Spaces
If you're fortunate enough to have a large, open kitchen, your options are virtually limitless. Your most difficult decision will be choosing the style that makes you want to spend time in this most important room. Will it be traditional or farm-style, with ultra-modern appliances designed to resemble their historical counterparts? If you want a kitchen that's chic and modern to inspire you, slick finishes and the latest in high-tech kitchen appliances will be right on point.
Your appliance package is going to be one of your biggest investments in low key to high-end kitchens. Since they will be an integral part of everything your kitchen stands for, Avenue Appliances invites you to come in and view our live kitchen appliance displays to see our large selection of European and high-end premium kitchen appliances.