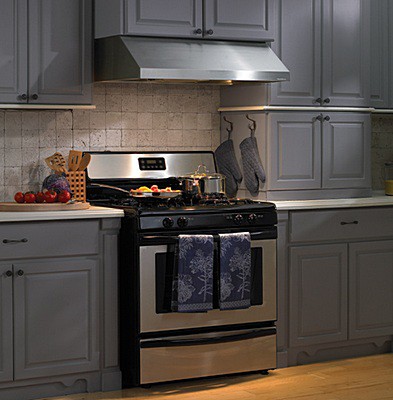 For more than 80 years, Vent-A-Hood has specialized in removing cooking vapours from homes, so naturally, the definitive kitchen ventilation brand – Vent-A-Hood range hoods – delivers for the induction cooktop in your Edmonton kitchen. Because Vent-A-Hood is as conscious of style as it is of technology, you can count of a range hood that looks great in your home and performs to perfection when removing the cooking contaminants of heat, grease, odors, smoke and steam. Vent-A-Hood range hoods come in the usual under-the-cabinet residential version or the wall-mounted hoods if you prefer a professional-kitchen look.
Good Reasons Vent-A-Hood Range Hoods Are Eagerly Sought
As you would expect from the leading manufacturer of range hoods, Vent-A-Hood has developed products using the latest technology and most chic, current home decorating trends.
For instance:
Quiet – Vent-A-Hood range hoods are the quietest you can find because of the patented Magic Lung. Since most of the noise created with range hoods is from the blowers, Vent-A-Hood's products feature multiple fans that come on as the heat from your range increases. The blowers are designed with several speeds so you control the noise in your kitchen.
Easy-Cleaning – Gone are the days of dreading cleaning your range hood. Vent-A-Hood range hoods are designed with easily accessible parts that can pop out and be popped into the dishwasher for a thorough, relatively painless (for you) cleaning. The parts can also be washed with simple soap and water.
Powerful and Efficient – Vent-A-Hood range hoods have been created with top-notch engineering (and resulting scientific jargon) to keep the air in your kitchen free of cooking pollutants. Vent-A-Hood Range Hoods' Magic Lung uses "sufficient air pressure and constant speed with centrifugal filtration," according to the Vent-A-Hood website. Using that technology, Vent-A-Hood produces the most efficient range hood on the market.
Fire Safety – Vent-A-Hood Range Hoods are designed to keep fire from spreading to the rest of the house, so your Edmonton home receives an extra level of safety in the event of a disaster.
Your Induction Cooktop Deserves The Best Range Hood
If you're moving to induction cooking, doesn't that investment deserve the best range hood you can provide? We encourage you to stop by our Edmonton store and discover the Vent-A-Hood range hoods for yourself. Our friendly, knowledgeable staff can answer all your questions and help you select the best for your individual needs.