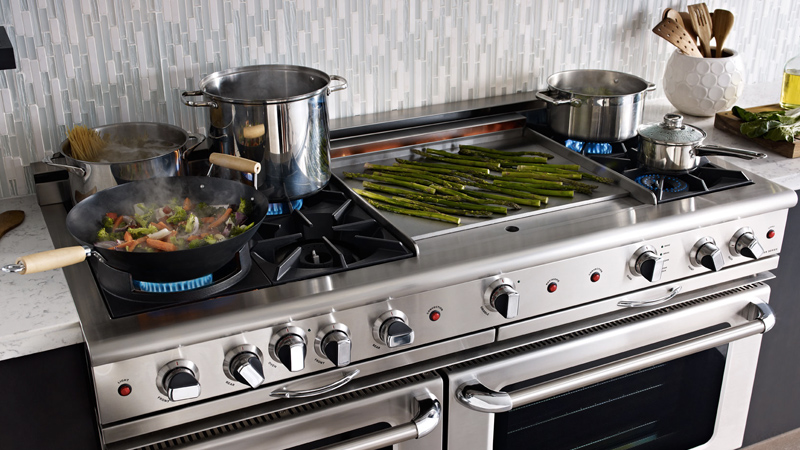 Can you imagine your dream range? Does it have open burners that make for easy cleanup? Maybe a grilling surface or a rotisserie that can handle enough food for a large crowd? Capital Appliances makes ranges that come in a wide variety of configurations that make them a match made in heaven for your busy Edmonton lifestyle!
So Many Reasons to Love Capital Ranges
Capital Appliances has been crafting top-quality ranges for more than 50 years. With that amount of time under your belt, you come to learn what design features make the difference for busy Edmonton families who love a great meal. For example, you can choose restaurant-style open burner flames for the ultimate heat, or you can opt for the sealed burner that still packs a powerful flame but makes cleanup easier. For either style, cast iron grates provide you with the toughest surface possible to handle the heaviest of pots while maintaining its beautiful finish.
There's Just So Many Choices!
You do not have to settle for just one basic configuration for your range when you choose Capital appliances. Ranges come in sizes from a standard 30-inch all the way up to 60-inches. With a range that is five feet wide you could cook for half of Edmonton and still have room left over! Even better than the multiple size choices are the features! Depending on the range you choose, you do not just have burners, you can opt for a BBQ grill section with stainless steel griddle plates and a specialty wok burner that gets super-heated for those tasty and healthy stir fries!
With Great Ranges Come Great Ovens
You know how frustrating it can be when you are trying to cook for a larger crowd than usual. There is always that one dish that just will not fit in the jigsaw puzzle that becomes your oven when there is so much to have ready at once. You can end that source of frustration with Capital appliances ranges for good!
You can invite everyone you know in Edmonton to come for dinner and with dual ovens like the Precision 60" boasts, you can use commercial sized pans up to 26-inches wide in the large oven and have plenty of room for baking in your secondary oven. With added features like a rotisserie, convection cooking and broiling and huge viewing window so you can see how things are going without losing precious heat, there is no end to the creations you can make for your family and friends.
At Avenue Appliance we have a showroom that can show you just how wonderful Capital ranges really are! Contact us today or visit us to see why Edmonton is loving Capital Appliances ranges. We cannot wait for you to see the amazing possibilities and help you pick out the best one for your Edmonton home!