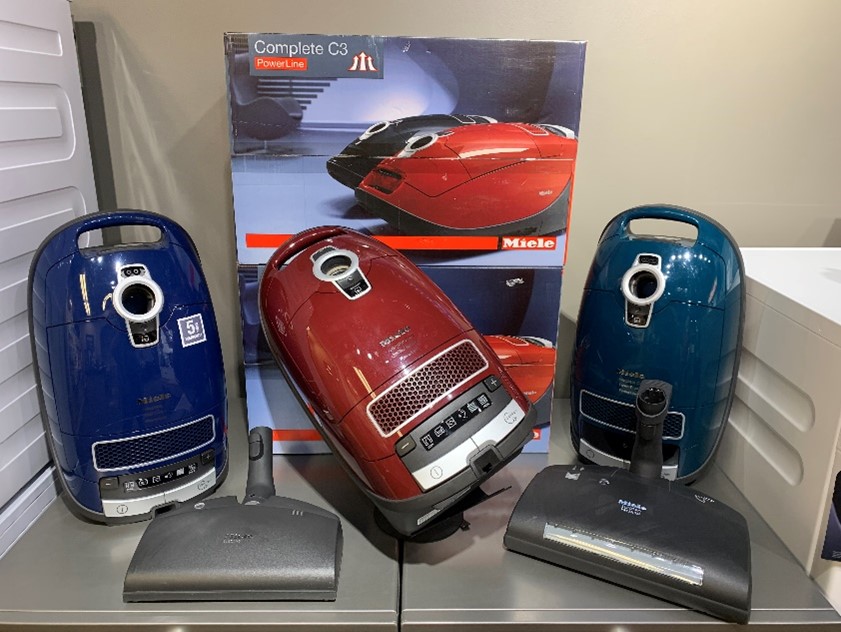 Is it itchy eyes and runny nose season again? Is it like that for you year-round? Your vacuum cleaner has a bigger part to play in keeping your allergies in check than you may think! Read on to find out why many other allergy sufferers trust Miele vacuums with keeping their homes clean and allergens to a minimum. Visit Avenue Appliance today for a demo!
Inanimate Objects Causing Real Problems
It's time to get real with Miele! Their vacuums are anything but standard in the vacuum sector. You don't need a vacuum that instead of helping you get rid of dust bunnies, tosses them up in the air, causing dust bunny babies to form. Miele vacuums capture allergens instead of redistributing them. How? The answer lies in Miele canisters.
"Can Do" Canister Attitude
Miele vacuum canisters are very skilled at keeping secrets and staying sealed. How can you trust a friend who always spills the dirt? You can't! Miele vacuums are a friend you can trust to keep the dust at bay, with:
HEPA filters that capture 99.95 of the tiny particles
Self-sealing AirClean or Intensive Clean filter bags
Deep-cleaning that goes beyond looking clean, ridding your home of allergens
AirClean and Intensive Clean bags use spring-loaded or slide action flaps to stop the allergens from escaping into the air and your lungs. Vacuums from Miele aren't friends at face value. They go beyond the surface and deep-clean. If you want a reliable, trustworthy tool to keep you focused and not in a hay-fever haze, Miele vacuums may be just what you need!
Love for the Miele Vacuum HEPA Filter
Miele vacuum makers know how allergens can wreak havoc on your quality of life. It's recommended allergy sufferers use Miele vacuums that have HEPA filters. Miele vacuums meet and outperform HEPA requirements by using AirClean HEPA filtration systems that produce higher-quality cleaning solutions. When allergens are present, they can severely impair how well you live.
Getting to Know Your Situation
Knowing what kind of vacuum you need to ensure the best result is important. It can help to ask the right questions ahead of time. For instance:
What type of flooring do you have?
Do you prefer uprights or canister style vacuums?
How large are the areas you'll be cleaning?
What size of vacuum would suit your space?
These questions and more can help you be intentional in your selection. It's helpful to evaluate what fits you and your unique cleaning situation. If you need more insight on what to look for in a vacuum to help you breathe easy, contact Avenue Appliance. Our expert staff will show you the difference Miele vacuums make.