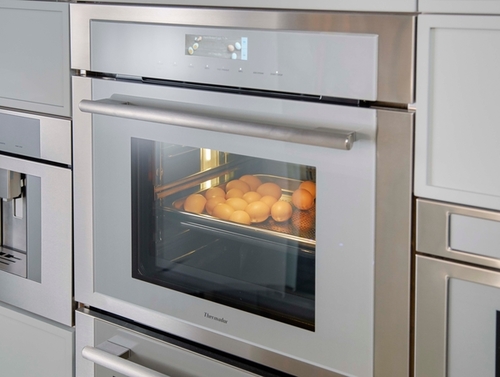 Smaller than a traditional oven, but bigger than a microwave, a steam oven allows you to evenly proof, defrost, bake, slow cook and reheat. Steam ovens feature a reservoir that is filled with water. The water is turned to steam by the heat of the oven, and the food is cooked by being enveloped in this steam. But why would you want a steam oven in your kitchen? Contact us to learn more about steam ovens.
Better Quality
Steaming food retains more nutrients than any other cooking method. Not only are more nutrients preserved, but your food retains more moisture as well. Dry roasts are a thing of the past! A steam oven also works wonders when reheating food. Microwaves are known for being quick but are also notorious for zapping all of the moisture out of your food and leaving you with dry, nearly inedible leftovers. A steam oven may take a little longer than a microwave (say 8 minutes rather than 1) but restores your leftovers to nearly fresh quality.
Multitasking Machines
Combination steam ovens are nearly an all in one cooking appliance. Not only do they steam, but they are also able to be used as a traditional oven adding moisture if desired. Another exciting feature of the steam oven is that steam cooking does not allow flavours to cross contaminate each other. You can confidently bake salmon, vegetables, and rice all at the same time without worrying about flavours transferring from one dish to another.
Time Saving
Not only can you cook multiple dishes at once, but since a combination steam oven is smaller than a traditional oven, it has a smaller cooking cavity which allows the oven to heat up faster and cook food faster as well. Think about how great it would be to cook a 14 lb turkey in 90 minutes! With this appliance, you have that capability.
Top Choices
Many top brands have added steam ovens to their line of appliances. Some notable brands with great steam oven options are:
Thermador – features Professional and Masterpiece models. Both versions allow for convection and steam capabilities. They also have a self-clean mode that makes clean-up easy, as well as SoftClose hinges to prevent slamming the oven door.They come with a recipe book, CookControl temperature probe, pans, and a rack. Plus, it is a smart appliance, so you can get personalized notifications, control, and diagnostics to your smart phone. There are a variety of Thermador ranges with a steam oven, as well.
Bosch - The Built-in oven with steam function comes with TFT touchscreen control, EcoClean Direct, and Bosch Assist. There is also the built-in compact oven with steam, which comes in either black or stainless steel. It features the PerfectBake sensor and the PerfectRoast meat probe, as well as the functions included with the first model.
Miele - Miele offers MultiSteam technology, extra-large trays, automatic menu cooking and Miele's SensorTronic technology.
Get Your Steam Oven Today!
With their ability to do the jobs of several cooking appliances (and maybe even do them better!), now may be the time to consider adding a steam oven to your kitchen. Come see us in store for our selection of these amazing appliances and book a live demo.