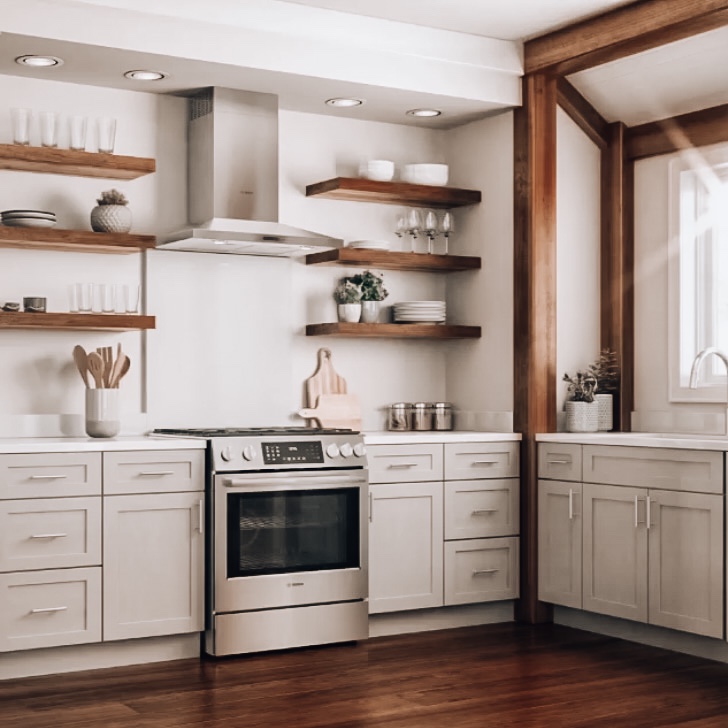 Fits Like a Glove
Custom kitchen appliances upgrade your kitchen and your lifestyle in countless ways. What is Bosch's secret ingredient to helping chefs revel in their creative space? It's a combination that pleases and punctuates the need for high-quality kitchen appliances! Visit us today to see our line up of Bosch ranges.
How Does Bosch Take the Heat?
They suit style, cost, and culinary needs by offering invaluable choice ranges to keep your kitchen customized and catered to you. What energy source do you prefer, and what's within your budget? Bosch ranges slide-in to first place for many chefs by offering your choice of:
Induction Slide-In
All-Gas Slide-In
Electric Slide-In
Duel-Fuel Slide-In
Dual-Fuel Slide-In ranges combine gas and electric energy sources for unique variation in heat transfer. A Dual-Fuel range uses gas to heat your cooktop and electricity for the oven unit.
Which Style Works for Your Vision?
Slide-In ranges are gaining popularity as their snug fit design capitalizes on smaller kitchen layouts. For those who like seamless flow in their kitchen and a flush design, slide-ins cater to that need. They also are a positive for those who want to ensure no gaps between the cabinetry and the range itself. (Those gaps can be ideal for crumb catching!) Slide-In Bosch ranges are extremely custom in design--a snug installation requires it!
For those who prefer appliances with a bit more flexibility and future redesign potential, Bosch provides freestanding versions as well. This option is beneficial for those who see their home as an investment opportunity and understand the value of staging their home but want their appliances to move with them. Another perk for those who appreciate the freestanding choice is that the oven/cooking unit space is often slightly larger than the slide-in range style.
There's no wrong choice with the premium quality Bosch ranges offer to any culinary artist! High-quality appliances should always be about preference without compromising on quality. Whether you lean towards farmhouse styles or modern contemporary, Avenue Appliance will have the designer appliances you need to create a space that you will be pleased to call yours!
How Bosch Makes Life Simple and Succulent
Bosch appliances remove monotonous guesswork, making them an uncomplicated choice for new and experienced cooks. Made from materials that commercial chefs would be jealous of, the Bosch range you select can make cooking a joy, even if you're a newbie in the kitchen! If you want an even cook, a tech-savvy appliance, and an aesthetic statement piece in the heart of your home, Bosch has your culinary dreams within reach!
Precision and Performance
Visit Avenue Appliance to learn more about Bosch ranges today! A self-cleaning oven unit, a drawer that keeps food tasty, and multi-rack inserts await to inspire your next kitchen masterpiece! You'll be investing in a future filled with culinary successes that will send you and your tastebuds into dance mode!