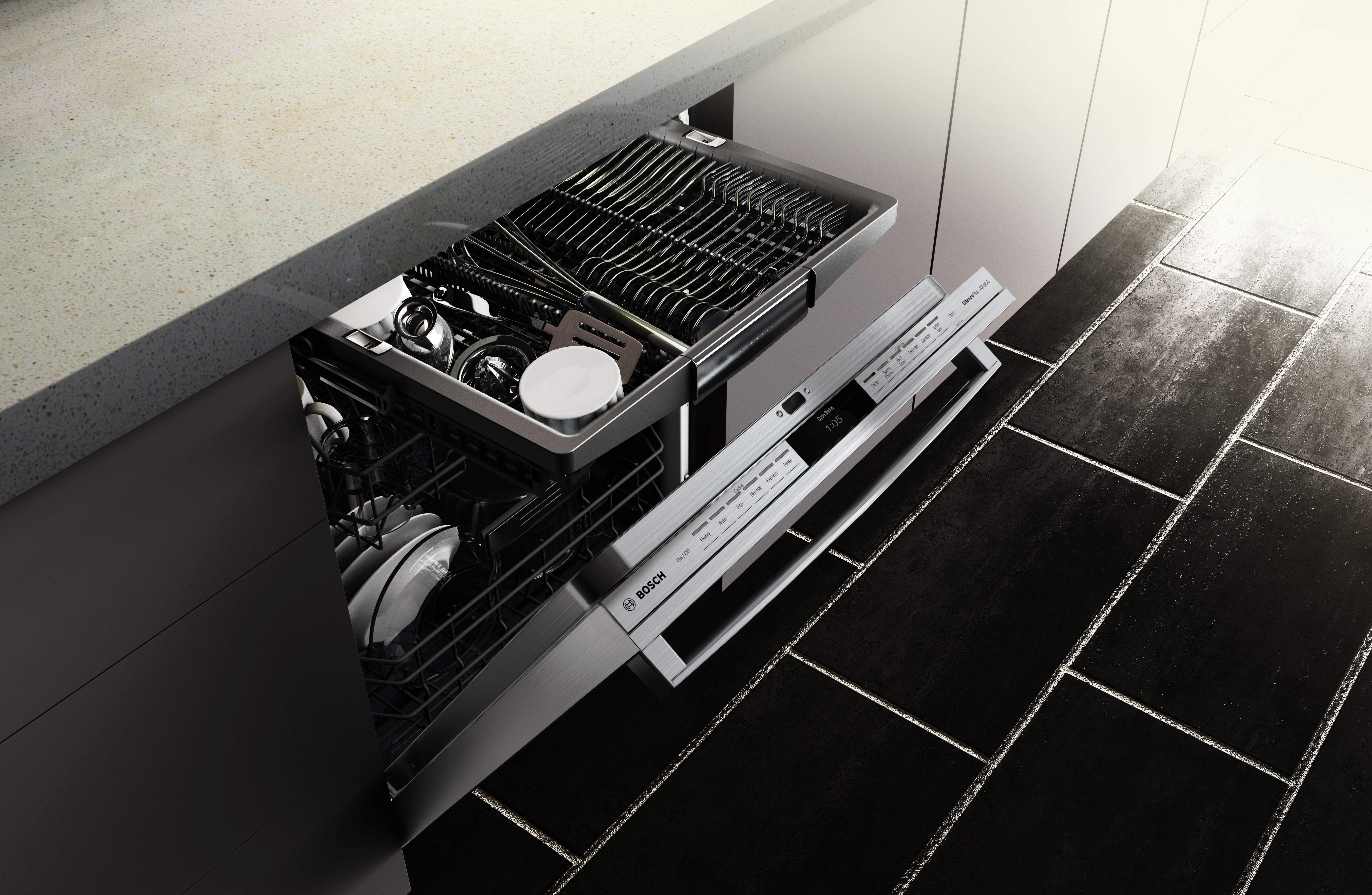 Do sparkling clean dishes make your heart skip a beat? For kitchen designers, home chefs, and social entertainers, clean dishes are the best way to set an idyllic scene. Whether you love open kitchen cabinets to display your stylish dishware or appreciate serving delicious entrees for guests, 800 series Bosch dishwashers make life a well-rounded experience. Visit Avenue Appliance today to learn more!
Counting the Ways/Perks
What makes the 800 series Bosch dishwasher so appealing to kitchen connoisseurs everywhere? Here are some ways the 800 series lets you know you can count on it!
It's quietly efficient.
No racking your brain to fit your dishes
Drying options that are kind to different materials.
It knows when to start and when to stop!
It listens to instructions well.
The Silent Treatment
The quiet dependability of the Bosch dishwasher 800 series is legendary. On hot summer days or brisk winter mornings, dishes may be the last thing you want to do. And it can be! The Bosch dishwasher was labeled the quietest dishwasher in North America for a reason. With low decibels, you can dream sweet dreams while your dishwasher works quietly to keep your dishes fresh and sterilized for the next day.
Dishwashing Shouldn't Be Torturous!
If you've experienced days where dishwashing and the disappointment from lack of space in your dishwasher plague you, those days are over. Bosch dishwashers can keep you from racking your brain for "Tetris-like" solutions. How? With its three racks to carry close to a third more of a dish load and adjustable rack configurations, kitchen patrol just got a lot less complicated! There are nine varying rack positions to capitalize on space.
It's Fantastic at Plastic
Have you ever lost your favourite plastic dishes to the perils of the dry cycle? When things get a little heated, it's helpful to know that 800 series Bosch dishwashers keep things balanced. The CrystalDry featured technology in a Bosch dishwasher is hard to quantify in value. If your dishwasher ensured your dishes were 60 percent drier than other dishwashers, would that change your world? With the right dish cleaning appliance, your counter space can be free to facilitate other more rewarding pursuits, like food prep!
You Can Delay the Inevitable
Time waits for no one, but that rule doesn't seem to apply to Bosch dishwashers. Their 24-hour delay feature is a definite must. When you want to delay the dish cycle by 2 or 24 hours, Bosch dishwashers take the time to keep you on schedule!
Tech and Clean Talk
Using the HomeConnect feature to manage your dishwasher, you can remotely adjust your dishwasher at your command. Whether you use your voice or other instructive options via the HomeConnect app, your dishes get VIP treatment while you are at home or out on the town. Want to talk more tech or find your custom solution for keeping your dishware spotless? Visit Avenue Appliance and meet with one of our dishwasher experts today!