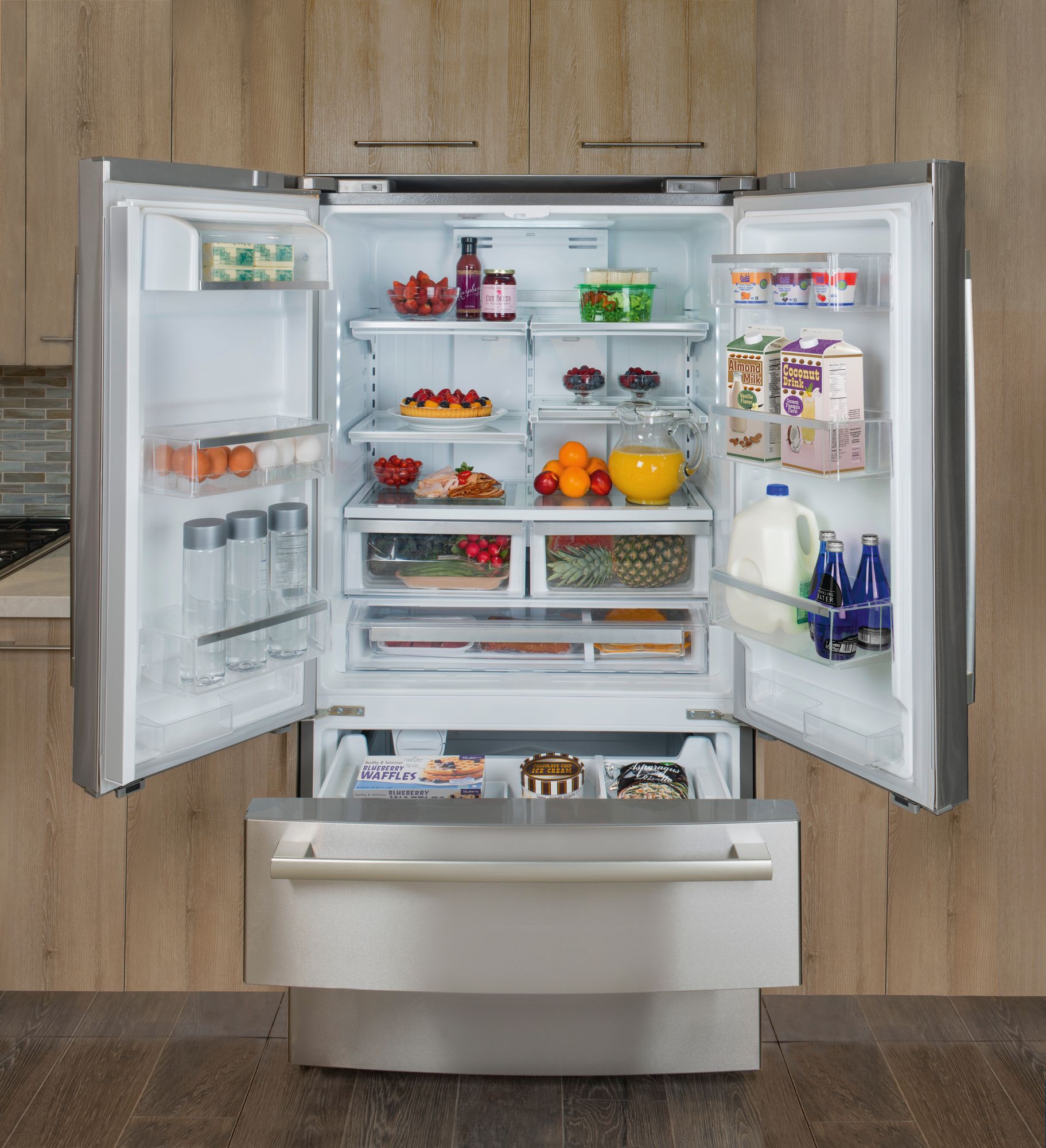 Whether yours doesn't keep food cold anymore or you're upgrading all the kitchen appliances in your home, now might be the time to go with a Bosch. There are a variety of options out there, but the 800 Series with the French doors and bottom mount is ideal. This fridge has everything you could possibly want and more, and the brand makes some of the best kitchen appliances out there.
Quick Stats
The fridge's freshness system is considered sleek and stunning in design and best-in-class for what it does. You'll find a variety of innovative features that will keep your food fresh for longer periods.
The FarmFresh system uses four technologies, all designed to keep your food fresher.
VitaFreshPro includes preset settings to balance temperature and humidity automatically.
Dual evaporators and compressors offer precision for humidity control and cooling without transferring as many odors.
Home Connect allows you to remotely monitor and control your appliance for efficiency throughout the day.
The stainless steel exterior is easier to clean and looks beautiful with many décors.
Protect Frozen Items from Defrost
When you open the freezer door and put new, room-temperature food in, the temperature of the whole box is raised. Frozen foods can start to defrost before the added items are chilled. This can cause a loss of flavor.
With the 800 Series, you get a SuperFreezing function, which makes sure that new foods are frozen as quickly as possible, preventing the current items from defrosting. Once the new items are frozen, the refrigerator returns to its normal operation when optimal temperatures are reached so as not to waste energy.
Keep out Warm Air
When you open up the fridge, warm air gets inside and can spoil the food it is supposed to store. The SuperCool functionality will quickly drop the fridge's temperature to help keep the food cold, but new items are also cooled faster.
This works with a simple push of a button. However, the function is also designed to switch off after about six hours to prevent these kitchen appliances from using too much energy.
MultiAirFlow
The MultiAirFlow feature is designed to circulate the cool, fresh air evenly so that the temperatures remain consistent throughout the cavity, even to the door bins and the back corners.
NoFrost
This innovative feature prevents you from having to defrost your fridge periodically. Air humidity is collected in the central chiller unit, so it automatically defrosts itself frequently. Any condensation is channeled out of the refrigerator to evaporate. Therefore, you never have ice buildup and won't have to perform this maintenance step manually.
LED Lighting
LED lights have been around for a while, but they haven't been put inside fridges. However, this Bosch refrigerator has it, which ensures a glare-free, even illumination. Plus, LEDs use less energy than traditional lighting systems and can last the lifespan of the appliance.
Smart Technology
With Home Connect, you can control and monitor the fridge remotely from a tablet or smartphone. Adjust the lights, control temperatures, and run diagnostics.
Now is the time to consider upgrading your refrigerator to a new one. You'll experience smart features that will make your life easier, but you'll also have kitchen appliances that looks beautiful inside your home. Come see us today to add this beautiful fridge to your home today!