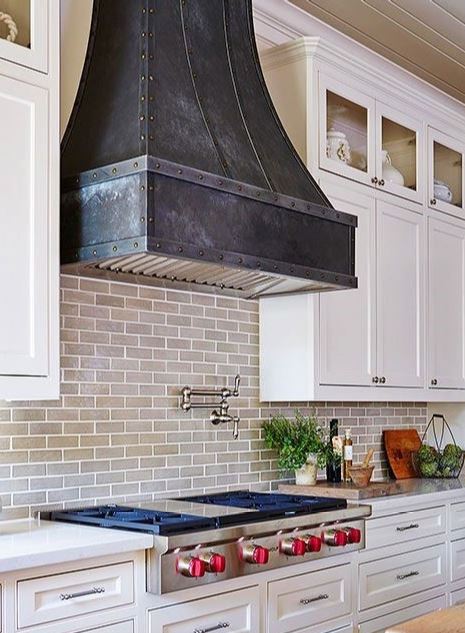 Proper ventilation may be one of the most important components in your kitchen. A range hood combats fumes, smoke, bad odors and dangerous pollutants that come from cooking. Vent-a-Hood, which got its start over 80-years ago, has become the definitive name in kitchen ventilation. Vent-a-Hood has some of the best functioning range hoods and fans available—and some of the most stylish. You can also create your own custom-made vent hood to match your kitchen décor, if you don't find the perfect vent hood for your kitchen.
Designer Range Hoods and Fans
Vent-a-Hood offers a wide range of stylish designs, and if you can't find one that matches your other appliances or style, they offer custom-made hoods, so you could virtually create your own. The Build-a-Hood portal enables you to "Design Your Dream" range hood to personalize and enhance the look of your kitchen.
Wall Mounted Hoods: If you have a range that is flush with the wall, then you need a wall mounted hood unit. Stainless steel mounted range hoods vary in size from 30-inches to over 48-inches.
Island Version: If you have cooking surfaces over an island or workstation, then you need an island version hood unit. Because islands are often in the center of the room, the free-hanging island hood tends to be the central focus of the room.
There are several different styles to choose from:
Premier Magic Lung® Professional/Standard
Premiagic Lung® Designer Series
Premier Magic Lung® Contemporary
Premier Magic Lung® Euro
State of the Art Technology
There are a lot of choices when it comes to vent hoods, but not many manufacturers offer the state-of-the-art technology found in Vent-a-Hood range hoods and hood fans. The top innovation found in Vent-a-Hood appliances is their patented Magic Lung blower system. Here are some of the Magic Lung benefits:
Whisper Quiet technology one of the quietest ventilation systems in the industry.
The Magic Lung is easy to clean. It's the only ventilation unit that collects grease in the housing, so you can easily snap it off for easy cleanup.
The SensaSource safety features prevent fire from entering the duct work.
Quiet, Designer, Innovative
Vent-a-Hood's design and state-of-the-art technology has made clean up easier, all while keeping your kitchen stylish. If you're looking to add a chic, innovative vent hood to your kitchen, contact us today and we will help you find the perfect Vent-a-Hood for your kitchen.