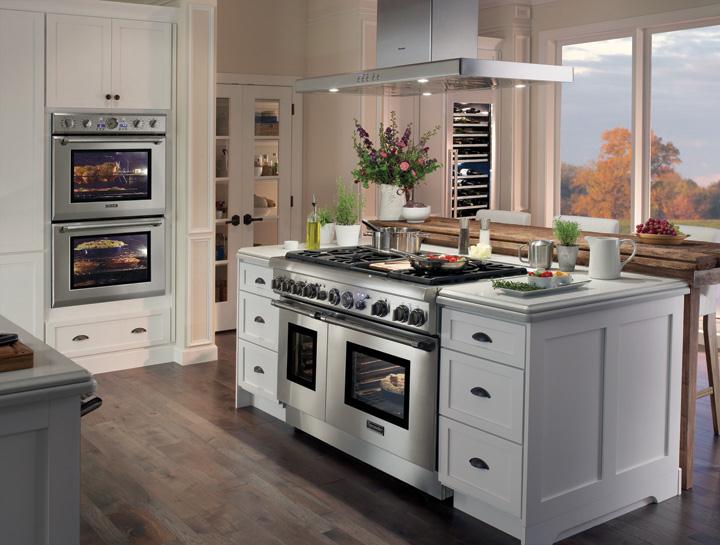 When it comes to choosing a new range, you'll find that Thermador appliances are a cut above the rest. This brand delivers one of the biggest range lineups in history and has recently introduced the new Pro Range collection. They are engineered to suit compact and large kitchens. Plus, the model has two lines – the Pro Grand and the Pro Harmony – each offers a variety of configuration choices. Call us today to add Thermador appliances to your kitchen
You'll also find that some of the Pro ranges use the Thermador Connected Experience from Home Connect. Therefore, consumers can connect and discover recipes, user guides and service guidance at your fingertip.
Sizing
Primarily, you will find that there are four different sizes for the Pro Grand and Pro Harmony versions. They include 30 inches, 36 inches, 48 inches, and 60 inches. Plus, there are many industry-exclusive features available. Therefore, these Thermador appliances offer more in performance and personalization.
In fact, the ranges have been completely redesigned. You'll only find milled stainless steel on them. Plus, there is an option to choose the metallic blue knobs to make it unique. If that weren't enough, there is also a color TFT display and bullnose front on a few models.
The Director for Marketing of the brand, Beatriz Sandoval, claims that Thermador is a leader in design, performance, and innovation. It enables many luxury consumers to take their creations to the next level and become chef-inspired. The company is quite excited to continue on with the elevated culinary experience with its range collection since it chose to equip some models with the Thermador Connected Experience. With the app, consumers can get much more out of their Thermador appliances.
Pro Harmony Range
The Pro Harmony range has been redesigned with a bolder, new look. It's also ideally suited to sit counter-depth, making it perfect for compact kitchens. You'll find that it comes in three sizes and blends in with its surroundings. This range style features single-fan convection technology, allowing the temperature to stay consistent throughout. Therefore, you can cook on all of the racks.
It also comes with the QuickClean Base, which makes cleaning easy. The ExtraLow function allows you to choose more temperatures, as well.
Pro Grand Range
If you're someone who wants a bold style and enjoys culinary adventures, the Pro Grand range might be best. It takes customization a step further by combining the burners with a grill, griddle, or induction module. You'll find that it can cook by steam or convection, as well as a combination of the two.
Excepetional ExtraLow simmer technology, Multi-Point Meat Probe, and many more features make the investment in this range worth it.
Upgrade Your Kitchen Appliances
We understand that choosing a new range is a big decision. It's something that you'll use for many years to come. Therefore, we believe that Thermador appliances are some of the best you can buy. Consider the Pro Grand or Pro Harmony for your home today. You'll be surprised at what it can do. Contact us today to learn more about Thermador kitchen appliances.