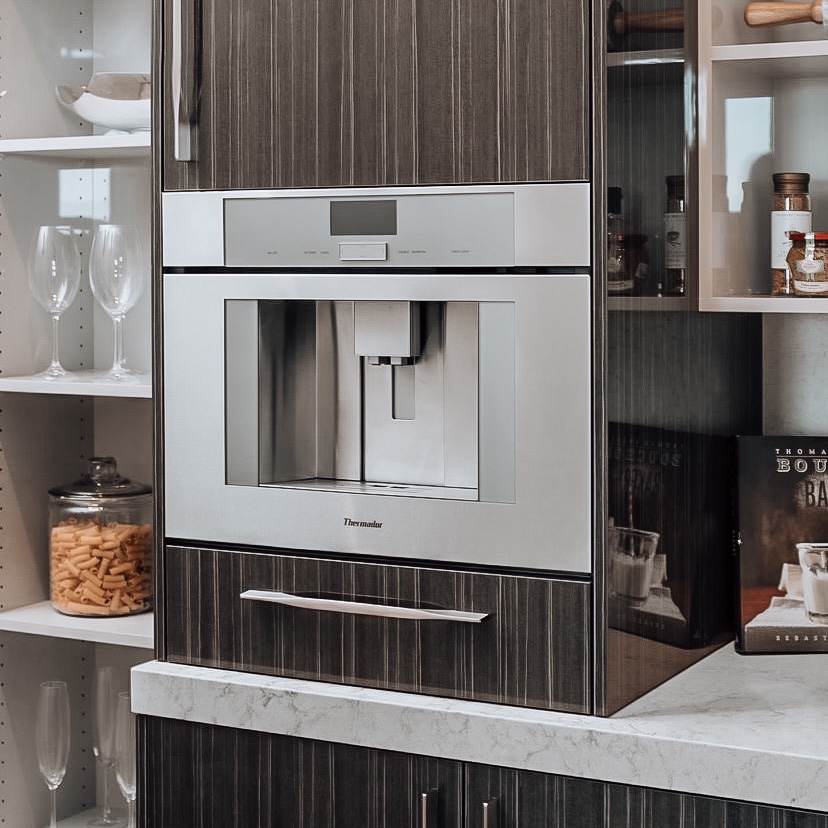 Good friends are hard to find. It's true! Have you discovered your one true kindred spirit? If you haven't, you may be looking in the wrong place! What best friend keeps you perky and upbeat without fail? How do you ensure your day stays on track, your spirits are high, and your loved ones are just as peppy as you are? With your hand-picked best friend, the Thermador coffee system! Visit us today for a demo!
Connoisseurs of Cafe Luxury
It may be time to move on to life's finer things! What better way than to take advantage of a high-end add to your kitchen? A friend who continues to be there for you when you have a rough day, the Thermador Built-In Coffee system is the bestie you've always wanted! Your road to smooth taste, delicious flavour, and props from your other "best friends" and family lie in the skilled craftsmanship of the Thermador coffee system!
Tasteful and Stylish No Matter the Time of Day
What makes coffee the elixir of life to so many? It's all about how you brew it. Innovation and modern comforts collide in a partnership that keeps your eyes open for adventures ahead! The Thermador coffee built-in offers comrades:
Instant access to HomeConnect and a bevy of delicious drink recipes at the touch of a button
Custom settings to ensure acquaintances become best pals once you input their favorite type of drink
Auto-cleaning settings that keep the sleek look of your Thermador coffee system gleaming and functional
Stylish lighting to attract the eye and engage the curious guest
With Thermador, the design and function of your built-in coffee system cater to your needs and wants!
Liquid Gold and Toasty Tech
For those who love their coffee fix, a Thermador coffee system is a gift that consistently outperforms. The HomeConnect app enabled through your WiFi connection keeps your cup of joe steaming and your mood on the upswing. Using your app, you can create your selection of gourmet cafes from the comfort of wherever you are!
The Thermador Built-in Coffee Machine helps you please your friends and loved ones and keeps them coming back for more! LED lighting and a digital screen highlight the stylish veneer of the Thermador coffee exterior built-in into your kitchen space. And when you want to invite your best "nonautomated" friend to your home, you can have their special drink already made for their tasting pleasure!
Cleaning Up and Creating Better Moods
The Thermador coffee system keeps you in the mood to tackle the day and tackles your cleaning for you! For coffee aficionados and clean kitchens, your built-in luxury coffee machine with a built-in drainage system allows you to move freely about your kitchen and gets you out the door with a smile of satisfaction on your face! Visit Avenue Appliance, your local Thermador luxury appliance dealer today to get the best coffee at home you've ever had!