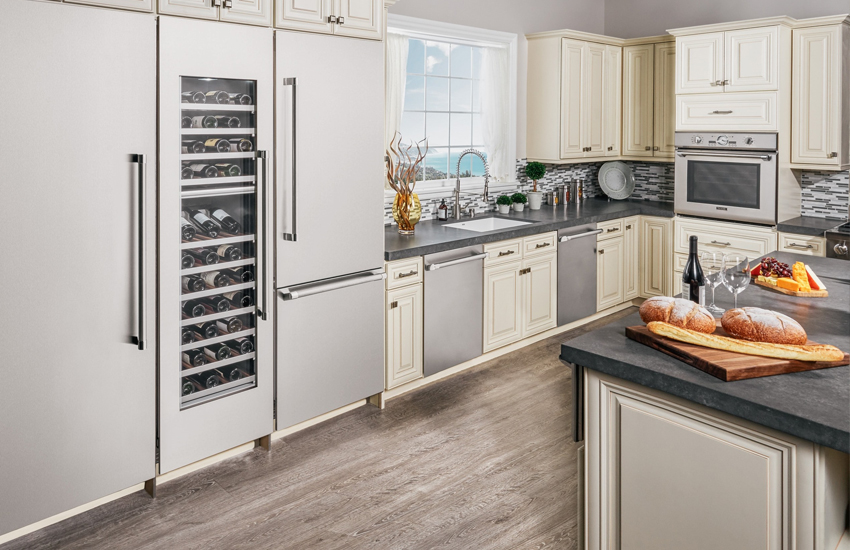 Thermador's commitment to innovation, professional functionality, and design freedom have propelled it to be the third largest appliance brand in the world. Regardless of your kitchen style or cooking methods, Thermador's appliances can transform your Edmonton kitchen into an elegant space of culinary art.
A History of Innovation
Innovation has been at the core of Thermador's culture since the company's outset almost 100 years ago, the brand began by creating the first in-home appliances, fundamentally changing the functionality of homes around the world. Thermador maintained this innovative mindset throughout their history, going on to produce the first wall oven and matching cooktop, the first stainless steel kitchen, electric stove, and even the glass oven doors that continue to be used in the modern era, to name but a few of their achievements.
Recently, Thermador has introduced the first full service induction appliance, a patented burner shaped like a star, the ground-breaking Pro Range of appliances, modular freezers, and recently a Professional Grill that enables BBQ enthusiasts to enjoy the grilling experience indoors year-round! This ability to not only keep up with innovation, but invent it, has made Thermador appliances the best in technology decade after decade.
Professional Functionality
Thermador's quality sets the professional culinary standards. It ensures you get the most out of all your ingredients from the time they reach your home to the moment they touch your plate. Large, atmosphere controlled modular fridges ensure every type of food is stored to maximize freshness. The cooktops use patented technologies such as the star burner, a unique star shaped burner design which more evenly and efficiently distributes heat, while their induction options offer responsive, efficient designs, with the first colour touch display on the market, as well as their PowerBoost technology that delivers unmatched power and precision. The spacious ovens deliver even, accurate cooking and even are able to use steam cooking combined with convection to unlock new culinary opportunities.
Custom Design
Finally, Thermador offers the freedom to customize your kitchen to your style. The pioneer of built-in home appliances enables you to customize your kitchen design through a full set of online tools. With Thermador, you can enjoy all the professional functionality while harmoniously blending the appliances into any style of home, from sleek and modern to classical and rustic.
Contact us at Avenue Appliance today to see how Thermador appliances can revolutionize your Edmonton kitchen and transform your cooking experiences.