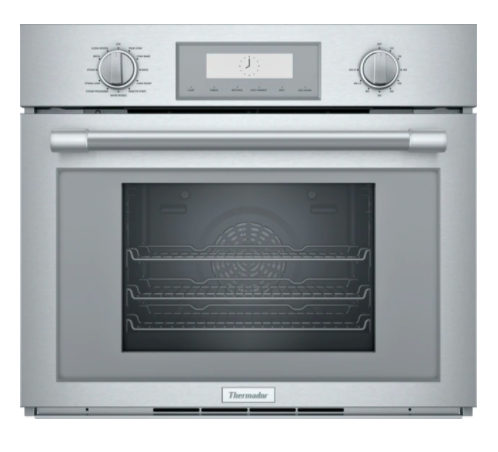 Making the Ultimate List
What makes cooking appliances "ultimate"? Is it the way they look? Their design aesthetic? The efficiency and consistency they display? Cooking is an art form. It allows chefs to employ skilled techniques, express themselves, and bring pleasure to the people they care about most. The ultimate appliance should support your efforts and excel at delivering quality results every time. Could a Thermador steam oven be considered the ultimate appliance? Visit us at Avenue Appliance for more amazing appliances from Thermador.
Thermador Steam Ovens Bring the Heat
It's time to let off steam! Instead of soaking in a sauna, you throw on your chef's hat and dash to the kitchen. The expressive process begins as stress levels lower. What appliance do you look to, to finish your delectable offerings? What ensures your gourmet dish is heated to the proper temperature and ready to serve? A steam oven! Here's some of the reasoning behind it all:
Steam convection ovens bring the heat without sacrificing moisture. Boiling food only injects moisture without adding that tasty, crispy outer texture.
Professional chefs love how steam convection ovens don't sacrifice nutrients or taste. The combination of heat and moisture keep vitamins in as well as flavor.
Reheating dishes that have been steamed is no problem. Thermador steam ovens hold onto the crispy outer texture and the moist interior for tasty leftovers!
Steam ovens that combine dry convection heat with moisture not only steam food but brown it as well. They can be used to roast and bake. It allows more versatility while not leaking out important nutrients.
Health-minded chefs appreciate how steam heating doesn't require added oils or fats when cooking protein-packed dishes.
Taste buds love steam/convection ovens! The unique cooking process of a steam oven ensures that flavours from separate dishes don't cross each other, so you can confidently cook your entrée and dessert at the same time.
How Do They Do It?
These high-quality ovens are multi-functional. Michelin star gourmet dishes require a variety of heating methods to produce depth and texture. Thermador steam ovens employ the ideal combo of dry and wet ratio to ensure contrasting texture. Thermador's True Convection Baffle system creates free hot airflow for an even cook. Steam ovens draw from a reservoir of water to produce the steam effect. Thermador steam ovens combine both methods.
So Many Choices
Thermador steam ovens provide ultimate options. Do you need to broil? Thermador steam ovens have a design that can turn up the heat! If it's turkey time, it's no problem with Thermador. Spacious cooking area keep hefty portions of turkey on the menu!
What about keeping flavors vibrant and colorful? Thermador steam ovens have flavor transfer down to a high-tech science. You don't need to adjust the temperature or your cooking method with Thermador. No matter the meal type you have a reliable appliance that preserves the flavors you wish to highlight.
Explore the Avenue
Are Thermador steam ovens your ultimate appliance? Contact Avenue Appliance for all the information you need to design your dream kitchen! Our appliances may be just the ingredients you need to create the ultimate foodie experience in your home kitchen!