The Miele brand of ranges has denoted incredible beauty and outstanding functionality in high-end appliances for more than a century. The introduction of the Miele HR 1956 DF Dual Fuel Range in 2015 continues this tradition. In fact, this range offers unparalleled versatility and nuanced control for the home chef. Here's how:
M Touch
This control system is one of the most accurate in the industry. Like a tablet or a smartphone, it's so simple and easy to use. You can select a specific program for each food and it even gives you cooking tips like which shelf to put it on!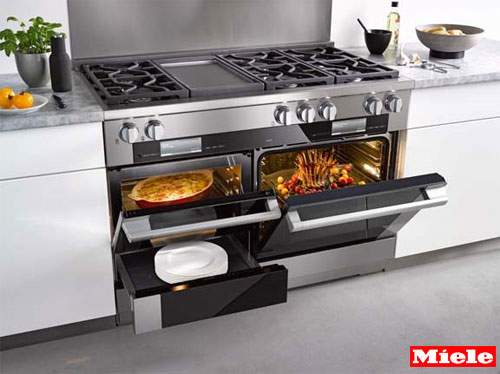 M Pro Dual Stacked Burner System
This gas burner system on this model allows for fast boiling of water for perfect pasta as well as a very controlled rate to keep your sauces bubbling at just the right temperature. When done, Miele's continuous design cast-iron grates allow for the easy passing of pots and pans across different burners.
M Pro Infrared Griddle
Sometimes, even the best home chef cannot do without a griddle. Whether you are looking to create the best French toast, gourmet crepes, lovely omelets or even searing meats or fish – you have to try scallops on here! – this griddle will do the job right every time.
Warming Drawer
Sometimes your timing on the Bechemel sauce will be a little off or your pork tenderloin will need to rest. This warming drawer provides the ideal environment for keeping these foods at the right temperature. It's also excellent for keeping a meal warm without overcooking or drying it out, which is perfect for when dinner gets delayed.
Wireless Roast Probe
If you're a well-seasoned expert, the "finger test" will do for determining the doneness of a roast. For the rest of us, the wireless roast probe from Miele is a must-have. You don't even have to monitor the process; just preset the temperature, insert the probe, and the range will handle the rest, providing you and your family with an absolutely delicious roast.
For more information on Miele ranges (or any other Miele appliance for your home) or to request a quote, send us a message or give us a call at 780-433-5931