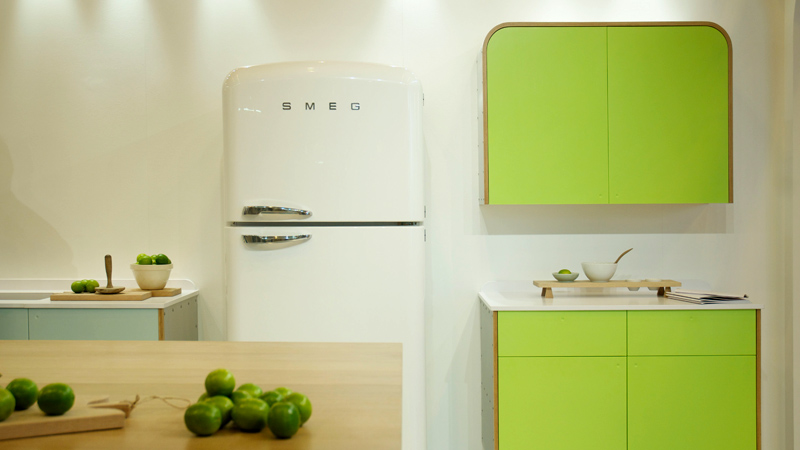 Your Avenue Appliance team is at it again! We've found another unique, high quality appliance that is a perfect addition to your Edmonton lifestyle. We proudly introduce Smeg refrigerators- retro chilling machines that are sure to be the talk of your friends and family. Whether you get one for your retro-style kitchen, as a showpiece in your entertaining area or a funky must-have for your man cave, you'll love keeping it cool with Smeg refrigerators.
Iconic and Retro Refrigerators
The only thing better than your favourite icy beverage after a long day of work in Edmonton is your favourite icy beverage pulled out of an iconic Smeg refrigerator. Designed in a true 50's rendition, Smeg doesn't stop at a unique design, they go a step further and offer this gem in ten different colours! From a subtle cream colour to a vibrant blue that can represent your favourite sports teams, there's a Smeg out there with your name on it!
Full of Features
We admit we get a little carried away when we find an appliance that is so fun to look at and push the other important stuff down the line, but don't worry, there are awesome features and benefits to these refrigerators that make them a perfect fit for any Edmonton family.
We'll start with the fact that Smeg uses the latest technology in refrigeration to provide maximum performance (for extra cold beverages), but prides their company in being environmentally responsible both in manufacturing and minimal energy consumption during your fridge's operation. This means you get an exceptional quality refrigerator that won't cost you a lot to run.
Some refrigerators look like they have plenty of room to keep everything nice and cold until you start filling it up. Smeg has maximized the use of all interior space by making the shelves easily adjustable in the door as well as the main body of the fridge. You can also remove them easily for the inevitable spills that happen when no one's looking.
Finally, what would an awesome drink fridge be without place for the ice? For added convenience and in true retro 50's styling, a small ice box has been included in the design.
Designed for Your Lifestyle
After all we have told you about the Smeg refrigerator, you must be thinking that you have to get one and be the envy of your friends and family. Visit our showroom at Avenue Appliance or contact us today and we will give you all the information you need to get a high quality appliance today.