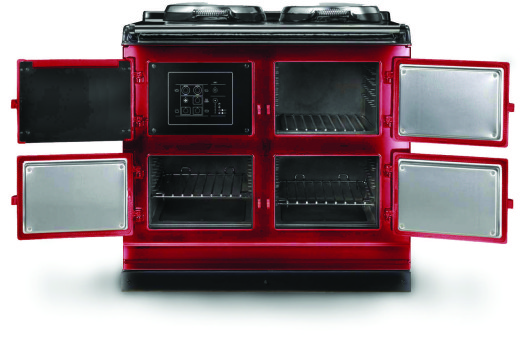 AGA is an award-winning cooking innovation that dates back to 1922. They are manufactured in Britain, where they are a fixture in opulent country and Victorian estates. The Bespoke AGA stove is known for their cooking configuration as well as their innovative colors. Recently, the company introduced the Bespoke Color Matching Service, so now you don't have to choose from one of their existing 12 colors, customizable for any décor.
Design, Quality and Colour
The AGA stove is a symbol of innovation, which has changed very little since it was first designed.
Unique Cooking Design:
AGA stoves are made of molded molten iron, giving it a unique surface, unlike any other cooking stove. It has large iron plates that heat four small ovens, that can be set at different temperatures. The top cast-iron cooking elements are used for stove-top cooking with a traditional stove.
Symbol of Quality:
Because of how the stove is crafted, it is built to last a lifetime. Each part of an AGA stove is meticulously inspected and must meet rigorous standards before it leaves the factory.
In many cases, an AGA stove is passed down from generation to generation because of its timeless design and unequaled quality.
Custom Colors to Match Any Color Scheme:
Whether you're looking to match your paint color, tile, other appliances or unique shades found in nature, the Bespoke AGA Color Matching Service can custom match your AGA stove to just about any color you desire.
Quality that Lasts
To customize your color, the AGA stove is coated in a vitreous enamel, instead of traditional spray painting. The enamel ensures long wear and the ability to refine the colors, so they are unique to your needs.
As with most kitchen appliances, while workmanship and design may not change, state-of-the-art technologies are integrated into new models to comply with the most recent environmental standards.
Customize Your Kitchen
For over 50 years our store has been providing Edmonton residents with the widest range of kitchen appliances. If you're redesigning your entire kitchen or just looking for a statement piece, visit us today for your custom AGA stove. We promise to provide you with exceptional care and the highest quality products.