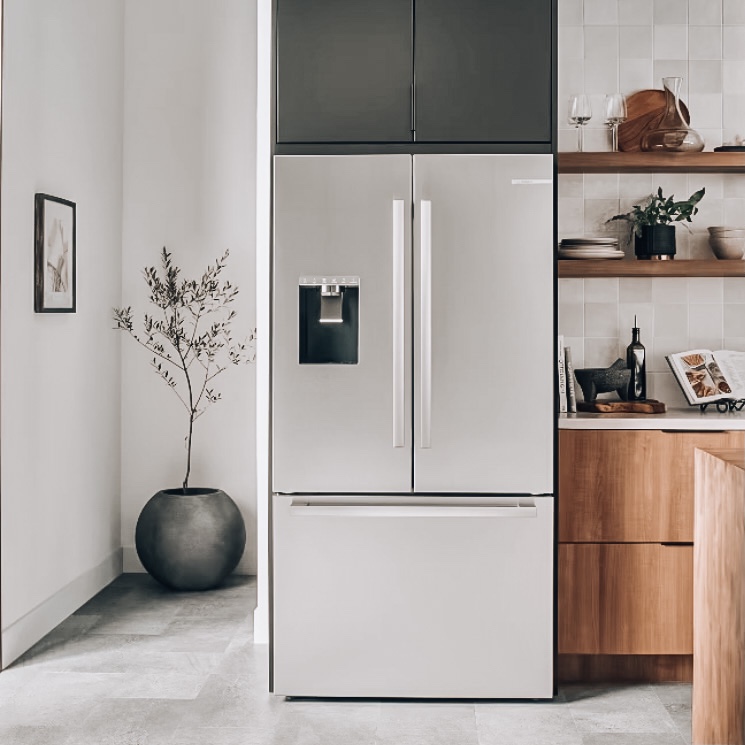 Revamping Your Opinion on Refrigeration
The quintessential kitchen companion may give you the proverbial cold shoulder, but it won't leave a bad taste in your mouth! Bosch refrigerators can keep your kitchen chill while elevating the preservation of a chef's go-to ingredients! How? With intelligent design and tech features that treat chefs to freshness and convenience! Now that the 500 and 800 series Bosch refrigerators are accessible to you, you are that much closer to creating your James Beard Award-worthy dish! Visit us today to learn more.
Chilled but Not Frostbitten
What is it about Bosch refrigerators that make them so appealing to experienced chefs? To answer that, you only have to look at the list of attributes they share! The 500 and 800 series have kitchen credentials that keep them atop every chef's wish list. For example, they both:
Utilize the AirFresh Filter
Filter fresh water and ice via the UltraClarity Pro
Employ the MultiAirFlow feature
Provide access from anywhere via HomeConnect
Have true counter depth
Details, Please
What do all these features mean? Here's a quick summary:
AirFresh Filter
This feature keeps odors away by absorbing the sticky, stale scents that try to permeate and mar your prime ingredients.
UltraClarity Pro
Bosch refrigerators utilize this high-quality filter to stop 99.9% of sediments from infiltrating your water.
MultiAirFlow
The MultiAirFlow system is paramount to ensuring your produce, dairy, and meat products stay at temperature. It circulates chilled air throughout the interior.
HomeConnect
HomeConnect is an app that puts control and peace of mind within reach. You gain instant access to light controls, temperature controls, and complete diagnostics on your refrigeration system to ensure that your host skills are up to par as your entrees stay ready to serve!
True counter-depth
Do you like creating a seamless flow throughout your home? The 500 and 800 series Bosch refrigerators are freestanding options that keep things flush, and hinges hidden! Stylistically they can appeal to the minimalist and the profligate alike!
High-Quality in Their Differences
While Bosch refrigerators produce consistent results, this by no means signifies that each Bosch series is the same. Every option features unique characteristics that create appliances customized to a chef's individual needs. What do we mean? Let's compare!
The 500 Series Features:
Hands-free BottleFill
QuickIcePro System
Easy Clean Stainless Steel Exterior
The 800 Series Features:
Adjustable FlexBar
VitaFreshPro Drawer
LED lighting and a Three-Tiered freezer drawer
Bosch refrigeratoroptions share many similar characteristics, but their differences also play a positive role in keeping kitchen appliances customizable to their users' needs.
Who Can Choose?
No matter what series you choose, the facts are in! Chefs everywhere can benefit from high-quality appliances that turn any kitchen into an environment where efficiency and excellence are commonplace and the food's not bad either! Want to discover more about how you can benefit from choosing your ideal Bosch refrigerator? Contact Avenue Appliance today and find out what it takes to stay chill when the kitchen gets a little overheated!