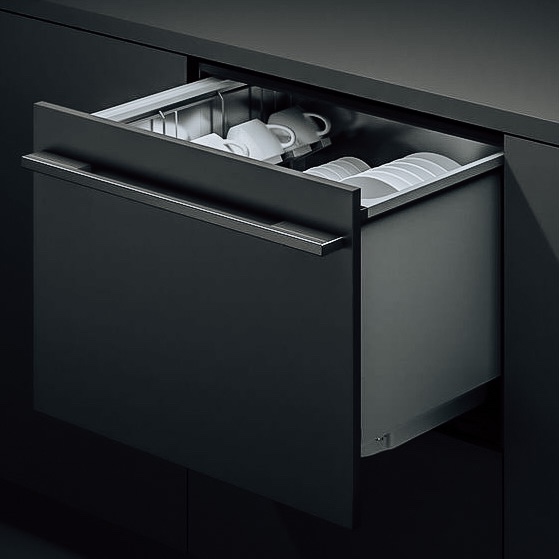 Should the terms, "fun" and "dishwashing" ever be used in the same sentence? Perhaps that question is a subjective one. For Fisher & Paykel, the question perhaps could be, "how do we revolutionize the way we think of dishwashers or the act of dishwashing altogether?" Can a dishwasher be integrated into your gourmet kitchen without being an eyesore? The answer is yes! And it comes in the form of the emergence of the aesthetically pleasing DishDrawer. Visit us today to learn more.
Choices Are Luxurious
How can a cleaning appliance bring a luxury feel to the kitchen? The DishDrawers in the Fisher & Paykel dishwasher line has stepped up to answer that inquiry with a designer's touch. Not only do DishDrawers boast of:
Extremely quiet cleaning modes
Versatility to fit into any chef's kitchen space
Ergonomic solutions
But they also are extremely customizable! Fisher & Paykel dishwashers offer their DishDrawer line with many custom features such as:
Single and Double Drawers
Compact and Tall Sizes
Selections with differing wash functions
A variety of styles for the kitchen
A Sparkling, Seamless Facade
The function DishDrawers bring to your kitchen is undeniable. After creating your unique and decadent offerings in your gourmet space, bringing order to your area is a necessity. Without specific cookware ready and sanitized to your standards, your creativity may suffer as you seek out clean dishes to substitute. With the function and specific style options Fisher & Paykel dishwashers provide such as the:
Integrated
Contemporary
Professional
DishDrawers can not only keep your dishware clean but your gourmet kitchen a stylistic standout. What inspires you to create beautiful plating using your skills? How do you offer delicious flavors without taking care to present your food as pleasing to the eye and tongue? As important as it is to ensure your food looks delicious, it may be just as vital to ensure your creative space looks just as inviting!
What's Your Style?
Are you a minimalist by nature? Do you prefer the less is more approach? If you prescribe to the adage "simplicity is life," you'll appreciate the integrated style of DishDrawer. With this style, the material facade of your Fisher & Paykel dishwasher blends with the exterior facade throughout the rest of your kitchen space.
Want to highlight and create a connection between your DishDrawer and other appliances? Contemporary styles ascribe to the sleek look of stainless steel and clean lines that run throughout a contemporary space. If you love the sheen of stylish steel, you'll adore these Fisher & Paykel dishwashers.
Bring the Style Home
Are you a fan of the function and fashion celebrated in a commercial kitchen? You can round out the kitchen experience with rounded handles, economical cleaning size, and a nod to the serious chef in your family! The professional style of the DishDrawer embodies the luxury appliance that is bold and unapologetic in any kitchen! Want help discovering your style?! Contact Avenue Appliance and find out how choosing Fisher & Paykel dishwashers can be fun and bring function to your kitchen!