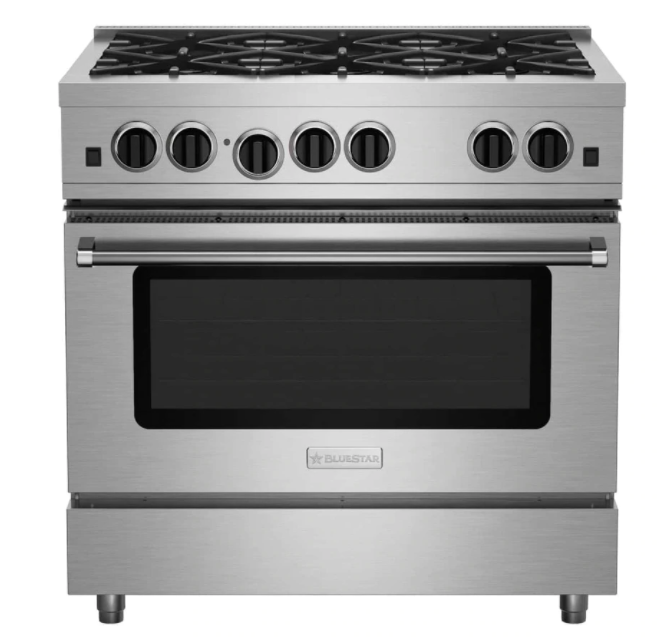 Quality that Shines
If you're a home chef seeking high-quality appliances to outfit your kitchen, what appliance makes your "must-haves" list? Chefs appreciate appliances that are dependable and functional. Quality products that focus on durability and design appeal are essential.  Home chefs love BlueStar ranges because they are sleek and high-performance machines. Come see their caliber in person at Avenue Appliance.
BlueStar ranges could be your secret ingredient to deliver delicious meals! How do you create one-of-a-kind 4-star dishes that friends and family will rave about? Curious yet? Let's begin exploring the fine nuances of why BlueStar's premium ranges are loved by top chefs! Here's a brief rundown of why these ranges mean blue ribbon quality!
Star-Studded Menu Maker
BlueStar ranges are meant for the spotlight. Why? It's in their design make-up. They make your tasks simpler. Home chefs deserve some all-star help for the herculean effort they put forth. Without the aid of other chefs, you are creating gourmet dishes to the delight of the ones you love. It makes sense that your appliances should be able to "serve" you with the skill you need to produce excellence consistently. You need an all-star cast of appliances to fill your kitchen with delicious flavors and ease your burden.
Here are some of the characteristics BlueStar Platinum Ranges are famous for:
Super customization opportunities
Access to faster pre-heating
More power and precision
Commercial quality broilers
Convection oven cooking through infrared power burner
PowR oven
Increased control over temperature distribution
Your kitchen should be your art studio. BlueStar Ranges cater to your need for an environment that completes you. These ranges have trim and knob options that fulfill the need for clean aesthetics. These state-of-the-art ranges please the eye and produce results that excite the palate!
Efficiency plays a pivotal role in commercial and home kitchens. BlueStar ranges facilitate good time management. The Platinum PowR oven that is available for BlueStar preheats the oven 40% faster when compared to other ranges.
In terms of power, BlueStar ranges exceed expectations. With 1850-degree capability in its infrared broilers, your BlueStar range can help you heat your decadent dishes with accuracy.
The right type of burner makes all the difference for home chefs who love high-quality ingredients they can transform into masterpieces. As a home chef, you can have access to controlled temperatures that keep your recipes on pointe. Do your burners range fall between 15K BTU and 25K BTU? BlueStar ranges do. Gas burners with high BTUs give the power and precision to boost your success in the kitchen.
Controlling Your Cook
Home chefs everywhere love to have access to appliances that make Michelin star dishes possible, even when cooking from home! Control is important in every aspect of cooking. It isn't easy to maintain. Premium ranges allow you the ability to produce foods that celebrate your skills and creativity. If you are a home chef with a desire to take your cooking to the next level with a BlueStar range, check out Avenue Appliance today. They carry all the ingredients you need to create the kitchen of your dreams!