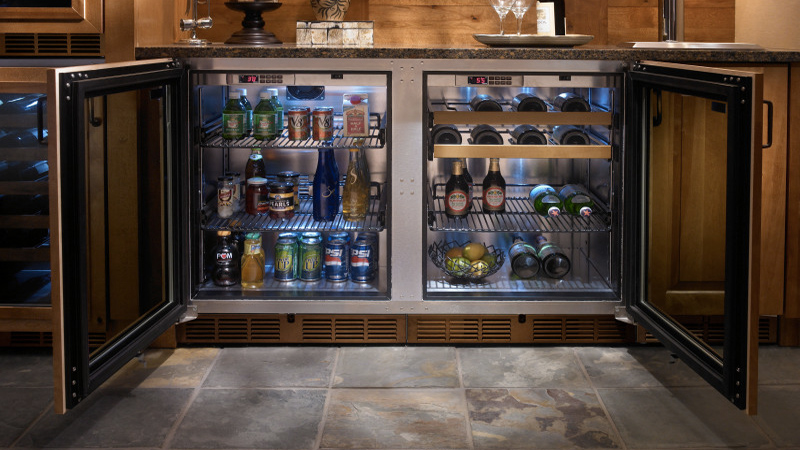 Summer may be coming to an end in Edmonton, but that is no reason to stop entertaining friends and family. Move your company indoors and celebrate in style with your perfect home bar created with Marvel appliances. Their beverage centers and undercounter refrigerators let you create a home bar that's ready to entertain.
A Touch of Sleek Sophistication
With its beautiful design made of stainless steel and a sophisticated interior in midnight black, the 3-in-1 beverage center from Marvel adds a touch of class to your bar in your Edmonton home. The glass door front allows you to showcase wines, drinks, garnishes and more, highlighted by LED lighting in a two-stage theatre-like soft blue. Marvel has completed the professional styling with stainless steel fronts on the shelves, full-length handle and four-inch toe kick.
Impress Your Guests with Perfectly Chilled Wines
For the wine connoisseur in you, Marvel appliances has covered every contingency so you can serve your guests or yourself the perfect wine at the exact temperature it was meant to be enjoyed. The Intuit™ precision controls allow you to set the temperature from 1.1 to 5.5 degrees Celsius, ensuring your favourite wines, other beverages or snacks are at the perfect temperature at all times. With UV-blocking tinted glass, an anti-vibration wine rack that puts your wine collection on display and protects the integrity, your parties will be the talk of Edmonton.
Keeping Energy Saving in Mind
With all of the amazing features packed into the 3-in-1 beverage center from Marvel, you might think energy efficiency was not a concern when designing this unit. The truth is, several steps have been taken to ensure your wallet doesn't suffer a direct hit while you are entertaining your guests in style! Some of the energy-efficient design features include:
Energy Star® certified
A cabinet that is designed to be thermally efficient while maximizing your storage space
Dual pane glass in the door
Alarms that are visible and audible if the door is ajar
Energy conservation settings for while you are away or the unit is not in use
While there are many benefits that are suited for your home bar, the convertible interior shelves and rack are designed to accommodate any of your favourite beverages and foods. With Marvel appliances, you can create the perfect home bar that will make your friends and family jealous. At Avenue Appliance, we will have you entertaining in style in no time at all! Contact us today to start working on creating a home bar that's perfect for you.