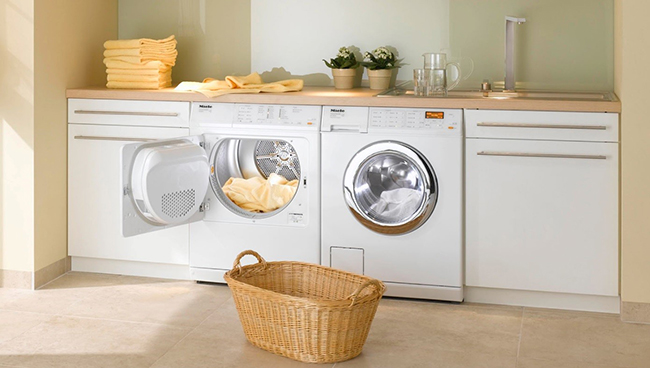 Avenue Appliance promotes Miele laundry systems for several reasons. Miele is all about "Fabric Care". It is the perfect laundry system for your favorite garments.
One of Avenue Appliance's favourites is the patented Miele honeycomb drum which offers unique fabric care. The washing machine drum in (Model W3037) has a concave honeycomb surface structure which allows the drum to form a fine film of water between the fabric and the drum wall, which gently cushions your laundry, giving it optimum care. Different fabrics require different requirements. The Miele special programs available on the (Model W3037) washer are a perfect match.
Programs include Normal, Colours, Denim/Jeans, Dark, Handwash, Quick Rinse, Pillows, Drain/spin, Outerwear, Beach Towels, Table Linens, Comforters, Express, Sanitize, Wrinkle Free, Extra White, Dress Shirts, Delicates, Woolens, Silks, Custom (program your own wash).
| | |
| --- | --- |
| | |
The patented Miele honeycomb dryer drum (Model T8023C) allows your laundry to float softly on an air cushion which forms in the depressions of the sculpted honeycomb structure for a far gentler and less creased drying result, which makes ironing easier too. Thanks to the unique honeycomb structure, the laundry is drawn higher up the rotating drum, allowing it to hover longer in the warm air, subjecting it to less mechanical handling. The patented PerfectDry system continually measures the remaining humidity of the laundry and so ensures perfect drying: reliably, regardless of water quality. Perfect Dry recognizes the conductivity of the water and customizes the drying process accordingly, preventing over-or under-drying, and ensuring the desired degree of dryness every time.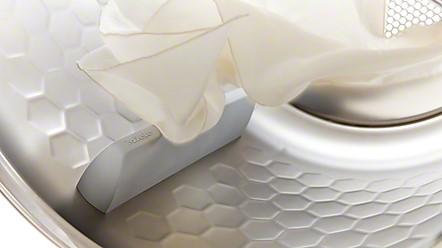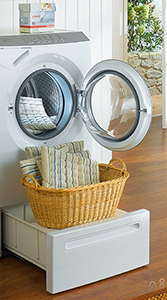 Different fabric has different requirements in the dryer as well. The Miele special programs on Model includes Mixed Load, Normal, Extra Dry, Wrinkle Free, Woollens, Fluff, Delicates and a Timed Dry. If you cannot remove your laundry immediately at the end of the program, crease care ensures that the textiles are gently moved at regular intervals to prevent the formation of creases.
A Miele tumble dryer alters the direction of its drum rotation at irregular intervals, preventing tangles and ensuring even drying with fewer creases.
Avenue Appliance sales staff know from personal experience just how effective a Miele laundry system truly is. The Honeycomb Laundry System is highly recommended.