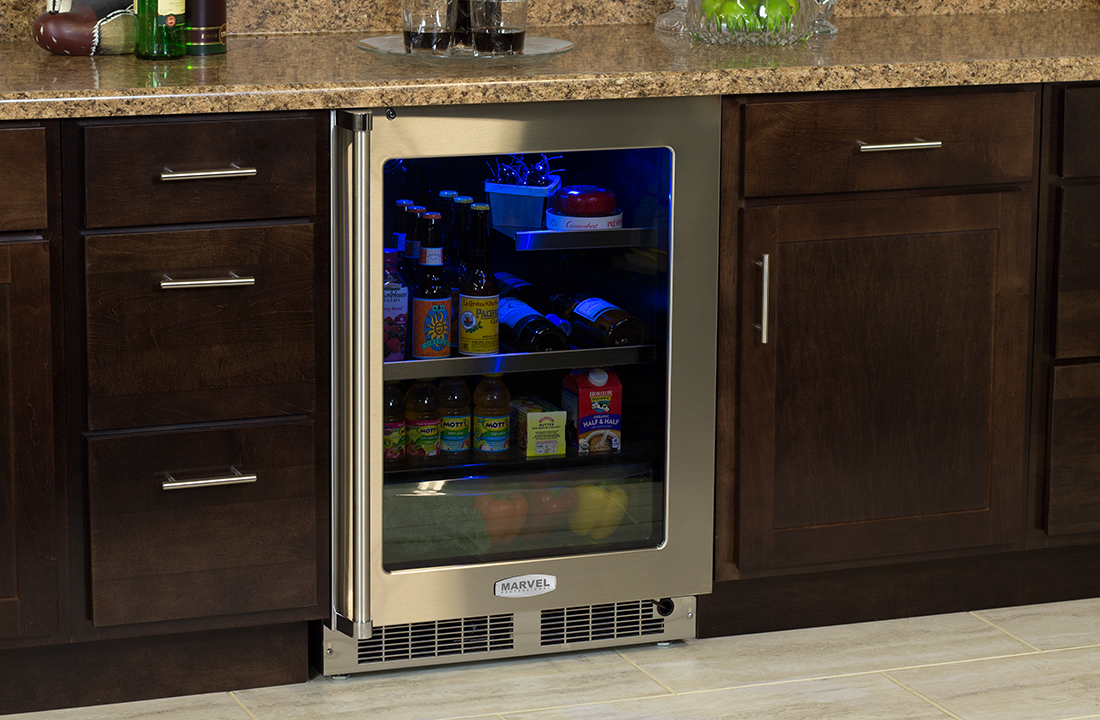 For the best in food preservation, Marvel refrigerators offer an innovative blend of quality and design. Marvel has long been a market leader in luxury refrigeration, built to the highest standards in the United States. Although best known for their under-counter refrigeration, over the years they have expanded into full-size refrigerators, wine storage coolers, beer dispensers, and even outdoor refrigeration. Treat yourself to the premium features of Marvel Refrigerators for your Edmonton home.
Options for all your food and beverage preservation needs
Marvel refrigerators are available in a variety of sizes to fit any kitchen design, including full-size refrigerators varying in size from 30"-72" wide, side-by-side models, column refrigeration, or under-counter refrigeration. To personalize your unit, you can choose from a range of finishes, such as stainless-steel, glass with a stainless-steel wrap, or a custom panel overlay. The custom paneling allows for seamless integration into your kitchen's surroundings. Models can be further customized by adding a bottom freezer or additional drawers.
Space saving functionality
Every Marvel model comes with adjustable shelving to maximize storage capabilities, including their patented 60/40 Split Convertible Shelf that you can alter into up to three different configurations. Additionally, each model is built with the cooling components in the top of the refrigerator rather than in the walls, allowing for up to 20% more space.
Keeping it fresh
Marvel refrigerators are an excellent choice for reliable food preservation. Marvel equips models with Dynamic Cooling Technology, allowing for precise cooling, accurate temperature maintenance, and quick temperature recovery. The Close Door Assist function gently closes the door for you if left open to preserve energy and food freshness. Thermal-control cabinets and humidity-controlled crispers create specialized environments within your refrigerator to suit different types of food.
Beverages and beyond
It doesn't stop at food – Marvel is well known for under-counter wine storage refrigerators that come with all the features you need to keep your wine collection in pristine condition. Marvel was the first company to introduce black interiors for all their wine cellars and beverage centers to ensure flawless integration into any room of the house. The dark interior, as well as a dual-pane UV-resistant door, has a secondary benefit of protecting your wine from harmful light damage.
For any of your top-tier customizable and space saving refrigeration needs, call Avenue Appliance at 780-433-5931 and speak with an appliance specialist about Marvel refrigerators today.