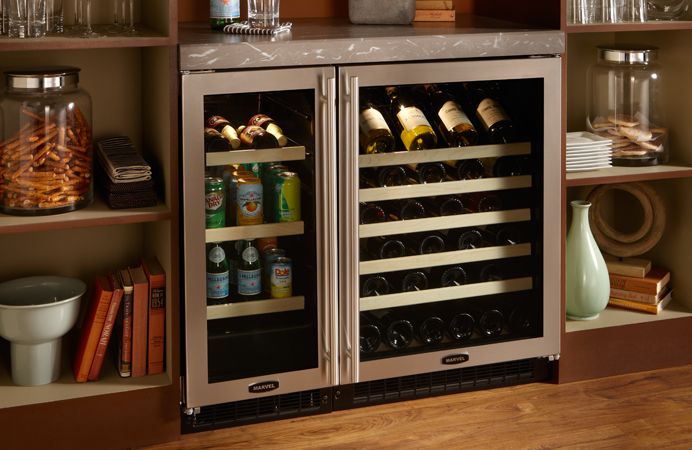 There's no reason to allow the wicked witch of August heat to threaten you when the super-hero of cooling – Marvel Refrigeration – is available for your Edmonton home. Marvel's refrigeration units fit attractively under your counter in sleek, energy-efficient modules. The luxury units of Marvel Refrigeration are sure to make entertaining more fun and your day-to-day life more convenient.
While Marvel produces the finest quality refrigeration for all your home's needs, its units are built specifically as wine cellars or beverage centres. Proper refrigeration is a crucial addition to your home because staying hydrated is important for your family's health.
Marvel's Wine Refrigerator Preserves Your Collection
Whether you serve fine wines or "porch sipping" wines, you know they all require careful handling to preserve the balance of flavor and aroma, so carefully created by the vintner.
Among the wine-specific features offered by Marvel Refrigeration's are:
Proper temperature,
Control of UV light,
Stability to reduce damage by vibration, and
Different sizes, 15- and 24-inch, to fit your space.
Marvel Beverage Centers Make It Easy To Stay Hydrated
Too much heat and sun is dangerous, and our need to stay hydrated is more critical during the summer. Turn that physical necessity into stylish luxury for your home by contacting us, Marvel Refrigeration's premier Edmonton distributor.
Beverage centres feature flexible shelving so you can arrange your beverage storage to meet your individual needs and tastes. Like the wine units, the beverage refrigerators come in more than one size. The lighted units (some with glass doors) install under your counters where ever you need them – not just in the kitchen.
Marvel Refrigeration's Combo Units Allow You To Mix And Match
You may want to install more than one unit. Whatever your needs are, Marvel Refrigeration offers cooling to meet them, including a unit that combines storage for wine bottles and whatever other beverages you serve. Special shelving is the perfect accommodation for wine bottles, while other space in the same unit is designed for other beverages.
Marvel Refrigeration has the perfect cooling unit(s) to keep your family safe this summer. Follow the "yellow brick road" (or Whyte Ave as we call it) to our store and choose the unit or combination of Marvel Refrigeration units best suited for your Edmonton home.