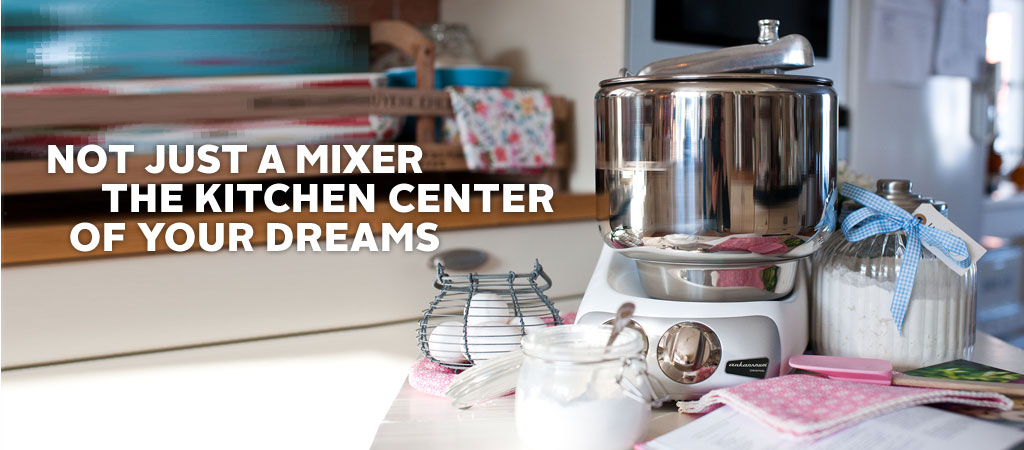 There is no better time than the upcoming holidays to prove your prowess in the kitchen and no better time to treat yourself to the perfect kitchen mixer to help you do just that. A favourite of Swiss cooks since 1940, the Ankarsum mixer is more than a sleek beauty, it is 600 watts of professional power that will have you whipping up the lightest of cupcakes and kneading the best bread doughs into submission in your Edmonton kitchen. Combine this powerhouse with optional accessories and you'll be making your own sausages, pasta and more.
Replace Some of Your Small Kitchen Appliances with an Ankarsrum Mixer
The Ankarsum mixer is more than your typical kitchen mixer designed for better baking, it is an all-in-one workhorse that can replace several of your current small kitchen appliances such as food processors, meat grinders and slicers with extra attachments. As a matter of fact, your Ankarsum mixer also acts as a juicer, blender and grain mill to ensure you have the energy and health needed to be an ace in the kitchen.
Although there are many extra attachments available to add greater function to your Ankarsum mixer, it comes with everything you need to get started. Made of beautiful, yet durable chrome and steel with a wide variety of colour options, this beauty with vintage appeal houses a powerful 600-watt motor that performs beautifully under load so you can crank out all nature of deliciousness effortlessly. For your convenience, the kitchen mixer comes equipped with:
7L stainless steel bowl
3.5L whisk bowl assembly that holds up to 18 egg whites
Dough hook
Roller
Cookie beaters
Spatula
Scraper
Dust cover/accessory bowl
Removable power cord for easy cleaning
Owner's Manual and Instructional DVD
Treat Yourself to a Sleek, Vintage-Looking Kitchen Mixer
Unlike many other kitchen appliances in its class, the Ankarsum kitchen mixer weighs a slight 19 pounds including the stainless steel mixing bowl, making it sturdy enough to handle the toughest of jobs yet light enough that you can move it without great effort. The compact design allows it to sit comfortably under most kitchen cabinets which is great because you'll be using it daily.
To learn more about the sleek, vintage-looking powerhouse that is the Ankarsum kitchen mixer, visit Avenue Appliances in Edmonton or contact us online.