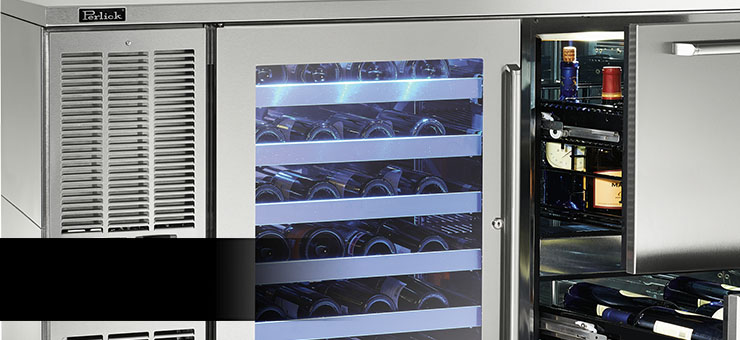 Entertaining guests in your home can be a very rewarding experience, filled with warmth, laughter, delicious food and an assortment of beverages. As anyone who plans gatherings, from casual to formal understands, organization is key to your success. One of the most critical yet uncooperative components to entertaining guests in your Edmonton home is your kitchen appliances- namely the refrigerator.
You have your gathering perfectly planned, down to the last nonpareil that will top your dessert. You have shopped your heart out and as you unload your bounty into the refrigerator, panic grips your heart. Not only are you already dodging falling items from landing on your toes, you can't possibly meet all the different temperature requirements to ensure perfection. How can you possibly serve wine at the same temperature needed to ensure an optimum shrimp cocktail? Enter premium kitchen appliances from Perlick and Marvel, designed for discerning entertainers everywhere.
Perlick Refrigeration
Specializing in under-counter refrigeration units, Perlick has been an innovator in design and quality for nearly a century. They are also able to proudly boast of the widest selection of refrigeration options made to fit under your counters for convenience and style. Rather than settling for a standard refrigerator with limited options, with Perlick kitchen appliances, you can design the perfect kitchen for entertaining with any of the following:
Freezers in door and drawer models
Wine reserves and beer dispensers
Refrigerated shelving and drawer space
Ice makers, and more
Marvel Refrigeration
With impeccable quality and style, Marvel has stepped up the energy-efficiency game by making their new generation of kitchen appliances up to 40 percent more efficient. Their Dynamic Cooling Technology™ offers such features as temperature stability, rapid cooling and fast temperature recovery. With cantilever shelves to increase capacity and easily adapt to your storage needs, entertaining with Marvel is a breeze. Some configurations include:
All refrigerator models, or combined fridge/freezer
Wine cellars and beer dispensers
Ice machines
Refrigerated drawers
Stacking kits and overlay panels
Avenue Appliances is your supplier of kitchen appliances in Edmonton designed to make entertaining the pleasurable experience it was meant to be. To view our full range of products visit us or come in to see our live kitchen and appliance displays.