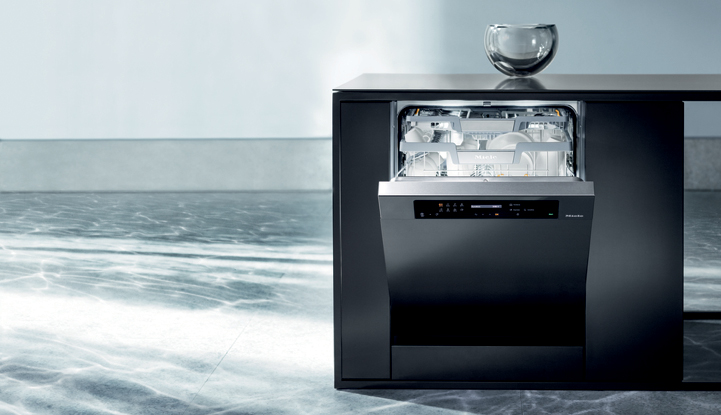 Achieving the Ultimate Clean with the G7000 Miele Dishwasher
Since the late 19th century, the invention of the dishwasher has been making life a little easier for homes and businesses. What makes G7000 Miele dishwashers a step above the rest? How do they make a clean sweep over other dishwashers? Let's talk about revolutionary features, advanced technology, streamlined style, and customizable convenience. Visit us today for a demo!
Revolutionizing the Way You Clean
For anyone who enjoys cooking, Miele dishwashers allow you to continue to enjoy what you do without suffering from "clean-up" woes. Delicious meals often require multiple types of dishware. Your creative offerings should inspire you and not fill you with dread at the prospect of clean up afterward. G7000 Miele dishwashers features a 3D multi-flex tray that slides and adjusts to make space for dishware of various sizes. With multi-flex dish trays:
You gain access to adjustable sections to customize your dish loading experience
You have a central unit that sinks to accommodate for taller dishware
The right sector of the multiflex tray in a Miele dishwasher has an adjustable depth feature
You don't have to worry about awkwardly shaped utensils, multi-loading, or a load of dirty dishes! With G7000 Miele dishwashers, you get added space for dishware, innovation, and tech that works to bring convenience to you.
Customizing Your Cleaning Your Schedule
How can smart tech change your dishwasher experience? A Miele dishwasher does more than give your dishes an excellent shine--it allows you to set your dishwashing schedule from afar. G7000 dishwashers get smart by employing the auto-start feature. Using a tablet or smartphone, you can gain access to your dishwasher's auto-start feature via a mobile app.
Are any unexpected visitors stopping by for a quick snack? No worries! You can get your loaded dishwasher rinsing away by triggering the start feature from wherever you are. Are you at work and one the dishes ready to shelf once you get home? You can schedule a timely cleaning, so spring cleaning happens every day with just the swipe of a finger.
Techy Love for the Miele Dishwasher
Technology lovers love the G7000 series of Miele dishwashers. You don't have to worry that too little or too much soap is dispensing from your dishwasher. The AutoDose coupled with PowerDisk dispenses the right amount of soap to tackle any soil level. The soap dispensement occurs at the ideal time to perform the most effective cleaning. It's one of the first of its kind in the world! An amazing innovation that ensures a deep clean every time!
Convenience and Ultra Cleaning Power
Boasting a stylish exterior, a multi-tasking make-up, and a convenience that is parallel to none, Miele dishwashers keep dishes and counters free from cookware clutter. You don't have to stack your dirty dishes or perform a reclean when you have a revolutionary appliance on hand. The G7000 series of dishwashers from Miele makes it easy to entertain and impress because it takes convenience, smart tech, and clean efficiency to the next level! Visit Avenue Appliance today to explore more innovative appliances from Miele.