Variety's the spice of life, and when cooking is your livelihood, you want a kitchen design that considers every detail. That's where Capital Appliances comes in. With over 50 years of engineering experience, Capital combines a deep-rooted passion for the better things in life with a competitive desire to be the best in the industry. The result is a line of handcrafted products that boasts durability, functionality, aesthetic value and unparalleled user experience. That's why Avenue Appliance is proud to introduce the Capital product line.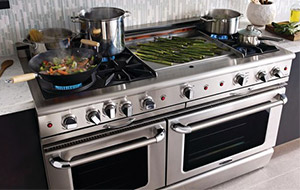 The Better Things in Life
Capital Appliances brings the flavor of an outdoor BBQ indoors with an easy-to-assemble, stainless steel, pro-grade rotisserie. Evenly cook up to 40 lbs of meat at 550 degrees.
Tired of dried out meat? This feature uses a water reservoir to provide optimal humidity levels and keep your food juicy. Grease splatter is also reduced to keep your oven 90% cleaner.
One look at the handiwork of Capital Appliances and you'll understand the pride and passion that goes into each handcrafted detail. For example, open burners are constructed with die cast, automotive-grade aluminum designed for easy cleaning and optimal performance. Capital Appliances combines functionality and convenience at every turn.
Available Through Avenue Appliance
Connoisseurian Series: This dual fuel (gas/electricity) range gives you the best of both worlds. Choose between sealed (19,000 BTU) and open (25,000 BTU) burners. Enjoy five cooking modes, rotisserie cooking and exclusive Moist Cook technology.
Culinarian Series: This gas range features open top burners (23,000 BTU) that are capable of providing a True Simmer from 138-145 degrees. Bake, broil and convection options are available, and you'll enjoy the convenience of the EZ-Glide drip tray and Stay-Cool knobs.
Maestro Series: Combine the most powerful cooktop available with a warming drawer and your choice of a single or double oven. The cooktop provides 64,000 total BTU and a 140-degree simmer for maximum cooking flexibility. Ovens are perfect for convection or rotisserie cooking, and the warming drawer has three adjustable presets and multiple timer options.
Precision Series: This gas-powered range features sealed Power-Flo burners (19,000 BTU), a Power-Wok burner (25,000 BTU) and an infrared BBQ (15, 000 BTU). EZ-Glide drip trays and Stay-Cool knobs make this work station a convenient pleasure.
No matter your personal cooking style or design preference, Capital Appliances has something for you. For more information, contact Avenue Appliances today.