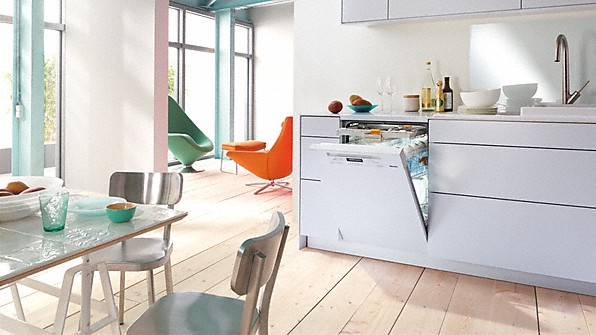 When you are renovating your kitchen or looking into new appliances, a Miele dishwasher is a must-have. Miele is known for consistently producing high-quality appliances that look great and are long lasting. As a homeowner, there are a few things you can do to ensure you always get the best results from your Miele dishwasher.
Placing Your Dishes
Start by putting your large plates on the bottom rack of your Miele dishwasher, near the back. You can place them in up to three rows depending on how many dishes you have to clean. Taller plates should go in the middle, leaning forward slightly so they do not block the sprayer. Alternatively, you can place them on the left-hand side. When you do this, you can adjust the upper basket to be on a slope allowing for wine glasses or other tall glasses.
Don't Use Pods
For better results, take advantage of the separate salt and rinsing agent spots in your Miele dishwasher. While pods are convenient, they do not give you the same type of clean you can achieve by using separate products. All Miele dishwashers have an easily accessible salt basket for quick refilling.
Learn About the Different Cycles
Your dishwasher has several different washing options depending on your needs. Gentle clean gives you the ability to wash large volumes of wine glasses at once without the risk of breaking a stem. There is also a quick clean option for when you are in a hurry. When activated, it washes your dishes in an hour. Regardless of the cycle you use, Miele dishwashers automatically release the door slightly when the dry cycle is done. This allows the steam to escape, reducing the number of spots on your clean dishes. For this reason, you should avoid storing any items directly above your dishwasher.
Keeping your kitchen clean is easy when you opt for a Miele dishwasher. These products look great in any kitchen and run well. With several different clean options available to you, a Miele appliance is perfect regardless of your needs. Placing your dishes in a way that is recommended for the product, avoiding the use of pods, and learning more about each cycle can all ensure that you get the most out of your dishwasher every time.
If you are in the Edmonton area and searching for a Miele dishwasher, visit Avenue Appliance, where you can find a range of products and knowledgeable staff ready to help you.