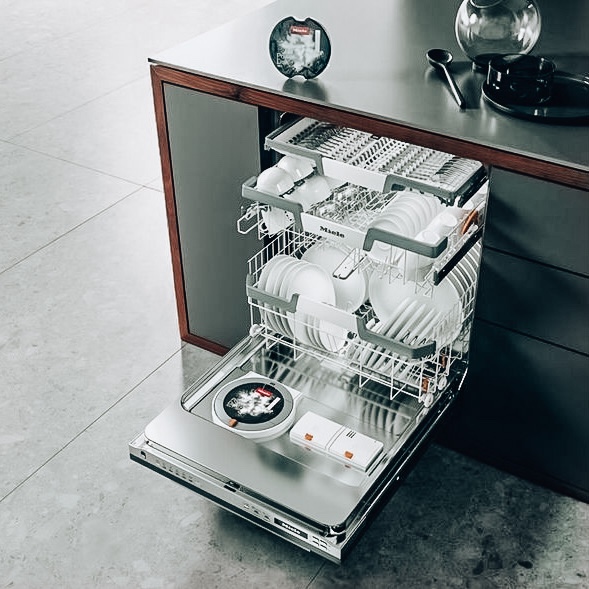 Can it get any better? A Miele dishwasher designer may say, "yes, it can!" How might you ask? We are so glad you did! Put down the dish soap and dry the raisin fingers while we start loading in the positives on how Miele outdoes their former designs time and time again! Visit us today to learn more about Miele's G7000 series of appliances.
Sparkling With Promise
The G7000 Miele dishwasher can withstand any dirt people or dishes will throw in it. With a feature called "QuickIntenseWash," in less than an hour, you'll have dishes ready for plating excellence without having to sweat the small stuff when hosting gets a little intense! Using 2 to 3 minute All in 1 UltraTabs that dissolve right at the beginning of the cleaning process, your dishes will sparkle as you dish up your favourite meal.
Societal Importance of Networking
For those who get what makes the world go around (networking), you'll appreciate this nod to the networking that the G7000 dishwasher technology provides. With options like:
Voice Control
Miele's Network App
Other Smart Devices in the Home for integration
Society thrives on interaction, and so do Miele products! Miele even has Cloud to further provide the accessibility and usability of their products to the people that love to use their quality SMART appliance solutions!
Eco-Friendly in Efficiency
Do you worry about inefficiency? In a world of fast tech, fast cars, and even faster changes, life can get a little crazy! How do the Miele creators keep you calm? Miele designed the G7000 model to keep things from getting too heated when hectic seems to be a common theme. Miele designed this model with features that:
Utilize less water
Economizes water rather than wastes water by incorporating a filter system
Add insulation to ensure efficient heating (which means using less energy)
When your Miele dishwasher is in its cleaning mode, you can relax and realize that your hands don't have to resemble prunes to save the world!
Features that Flex with Use
Time to get your brain muscle working overtime! How can Miele dishwashers help with that? With a bit of Tetris skills and a versatile invention, Miele can keep you awash with possibilities! G7000 Miele dishwashers come with a 3D Multi-Flex tray. This multi-functional fixture adds flexible storing options for your various types of utensils and your favourite cutlery. When you need to make space for really thirsty guests by cleaning out a tall glass, the flex tray's side panel is moveable to ensure larger volumes of glassware fit.
Bold and Beautiful
Can a dishwasher be a focal point? With a G7000 Miele dishwasher, anything is possible! And their design that embraces function and style makes it possible! It can be a focal point, or the complete opposite with a custom panel that seamlessly blends your dishwasher into your cabinetry. It all depends on your personal style. Visit Avenue Appliance today and lighten your dish load!