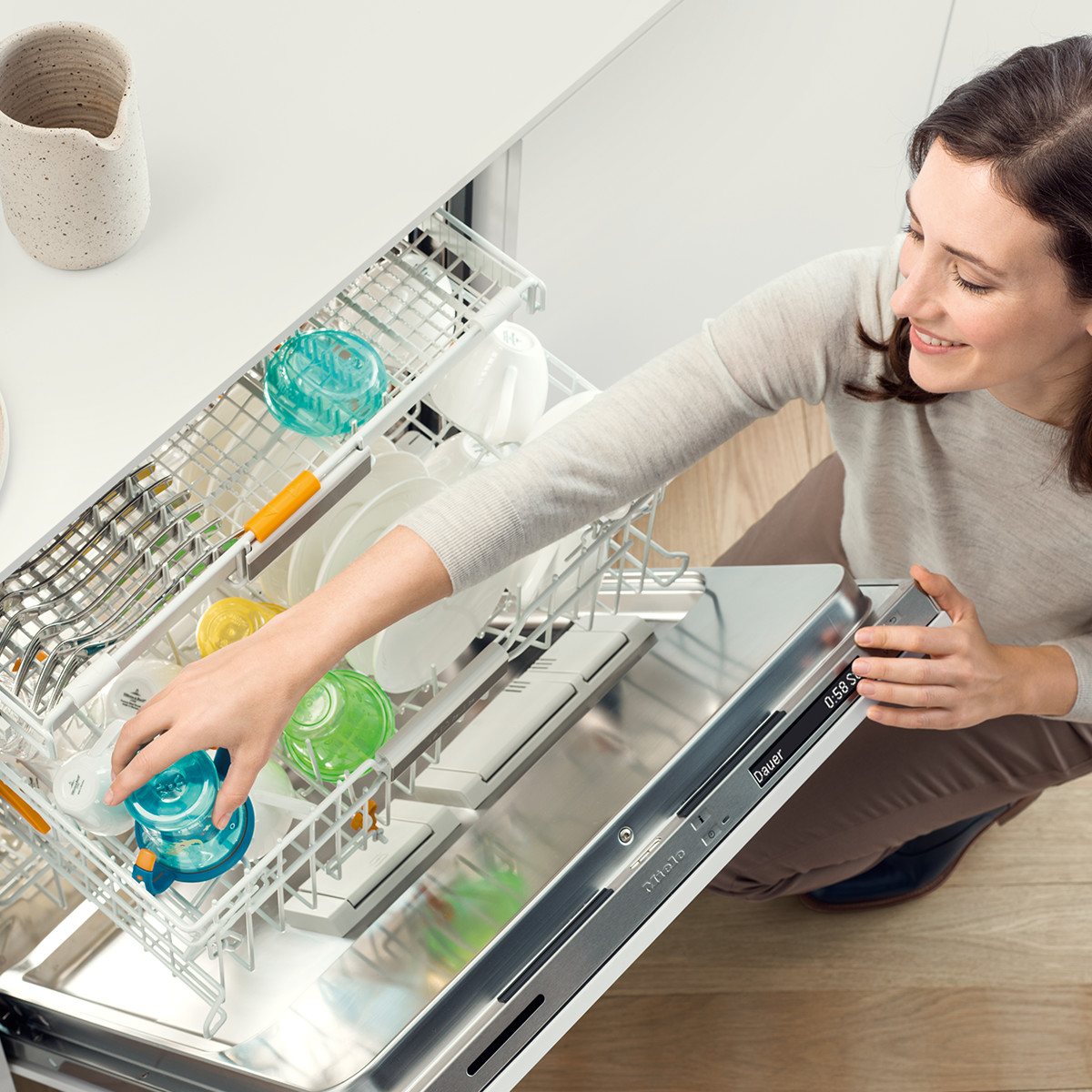 When it comes time to get a new dishwasher, you have many choices. One of the brands that take a step ahead from the pack is Miele. The company has been creating appliances for 120 years, and since then, it has been a top choice of consumers. Miele manufactures an entire family of appliances including ranges, cooktops, refrigerators, laundry machines, and dishwashers.
Here are some of the reasons why a Miele dishwasher should certainly be at the top of your list:
Commercial Power with Quiet Operation
One of the things that people love about Miele dishwashers is the great power that they have while remaining quiet and discreet. The reason these dishwashers are so powerful is due to the pump. It gets the water into the dishwasher, directs it onto the dirty dishes, and then helps to rinse everything away. The stronger the pump, the better the performance, and Miele places commercial pumps into its home-use dishwashers. This ensures you will get the cleanest dishes possible when using a Miele dishwasher.
Third Rack Cutlery Tray
One of the aggravating parts of using a dishwasher is the time-consuming chore of unloading the cutlery basket. In most dishwashers, this is on the bottom shelf, and it seems like no matter how careful you are about loading, you always get poked by the tip of a knife of the tine of a fork. On top of this, since your dishes are also stacked in the bottom tray, they will eventually get scratched by wayward utensils.
Miele changes all of this, too, thanks to the brand's third rack, which serves as a cutlery tray. You get more space in the bottom, and you can easily separate and organize your utensils for the best clean possible.
Wide Range of Wash Cycles
Miele dishwashers also have a multitude of wash cycles available. Here are some of the many options:
Normal
Pots & Pans
Sani-Wash
Express
China & Crystal
ExtraQuiet
Clean Machine
Economy
Energy Saver
…and many more!
Gentle Efficient Drying
For many years, most dishwashers on the market used the same method for drying dishes: a heater that would heat the temperature of the dishes so that the water, in theory, would evaporate away. Though this does work, it takes a while to complete the drying process. Miele has changed this, too.
Miele dishwashers use a method known as "condensation drying," and it uses cool air in addition to hot water to create a mini water cycle in your dishwasher. This quickly and efficiently dries the dishes after the washing cycle.
State-of-the-Art Rack Design
Miele has also changed the game with its rack design. Each dishwasher that the company makes is designed to hold a whopping 16 full place settings. Additionally, the lower rack has higher sidewalls than all other dishwashers out there, which means even large plates, trays and wine glasses can fit in with ease.
The company also adds height-adjustable holders, support rails, folding shelves, and even customizable options like additional racks and different basket designs.
Other Miele Features that Set These Dishwashers Apart
But wait, there is more! Miele also offers a number of other features in its dishwashers including a double water-proof system and three fully functional spray arms. Additionally, the brand has an AutoOpen drying system on some models as well as an AutoClose feature. Finally, it has a revolutionary element known as "AutoSensor," which can actually sense how dirty dishes are, and then it adjusts the cycle accordingly.
If you have been considering a new dishwasher, talk to the friendly team at Avenue Appliance in Edmonton. The experts here can help you find the perfect Miele dishwasher for your needs.