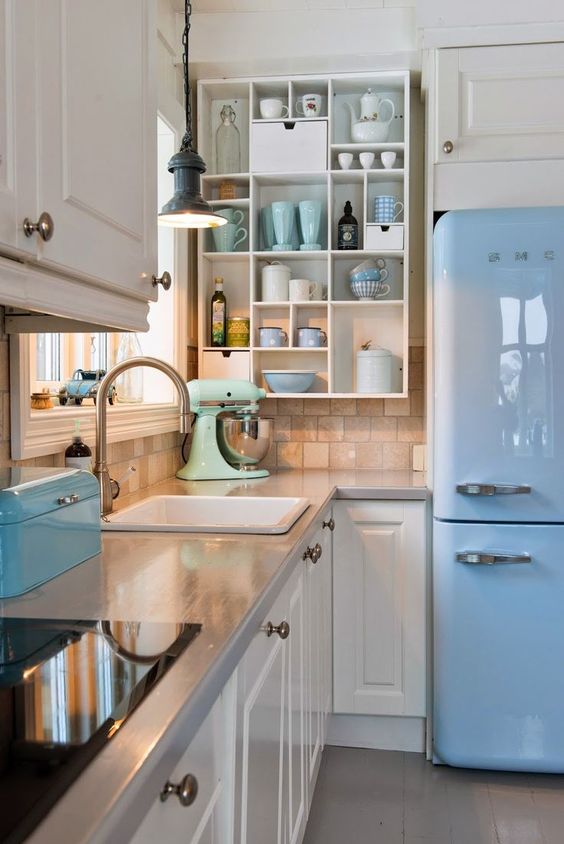 Every room should have something that gives it that extra edge and acts as a focal point. Most people think that their kitchen is the one room without a focal point, however Smeg appliances can uplift your kitchen and make it stand out, with their unique, custom, retro kitchen appliances!
Here are just a few appliances to give your kitchen a fun, unique look:
Smeg Fridges
The best way to give your kitchen that touch of elegance is by investing in a good fridge. Most refrigerators in the market are huge and dull which is not so appealing. Smeg appliances have the perfect fridges that come in a variety of colors. You can choose from side-by-side. Combined fridge-freezers, single and double door models, and small under-worktop units. With Smeg, there is something for every need.
Seamless Integration
Smeg appliances are known for their variety of color in addition to their high-quality. Their range of small appliances like kettles, toasters, stand mixer and blender come in rounded shapes that will complement any kitchen. Your new appliances will help to aesthetically improve the appearance of the kitchen making it a warm working space for your culinary works.
Quality and Stylish
Smeg appliances are synonymous with history and class. They are a cheerful brand that gives the kitchen that homey feeling, taking you back to the good old days. The unique design and shapes will give your kitchen an extra edge by looking different from the usual straight and stainless-steel appliances.
Even with contemporary appliances, adding a touch of Smeg will bring the retro feel back to your kitchen. The pastel colors blend in with the surrounding surfaces. Smeg appliances are not only aesthetically appealing but are also up to standard. This ensures that your kitchen is both functional as well as elegant.
Transform Your Kitchen
Retro kitchens are all about the traditional kitchen setting. The Smeg brand is determined to help you achieve this through their kitchen appliances. Easily transform your kitchen into a functional retro kitchen by implementing Smeg appliances. Visit our showroom today, to look at Smeg appliances and transform your kitchen into a work of art.