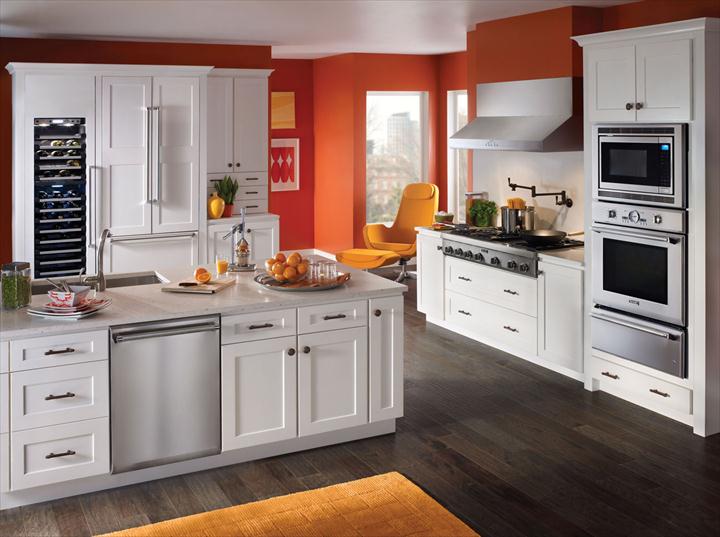 Giving Your Kitchen the VIP Treatment
How do you turn a kitchen into a chef's dream space? By upgrading your appliances with quality and convenience. Add freshness and life to any home with a Thermador refrigerator! To create a meal that pleases the most conscientious connoisseur of fine dining, Thermador features premium functions to keep things eloquent and edible in the kitchen! Thermador rolls out the red carpet for chefs seeking to create an atmosphere that is 5-star quality! Visit us today to learn more about Thermador refrigerators.
Lights, Camera … Vegetables?!
Who knew that vegetables could look so inviting? The key is in the display! Your designer kitchen deserves a designer storage unit to highlight and preserve the fresh ingredients you use for delicious dishes. Thermador refrigerators take every food prep experience to the next level by featuring:
Multiple movable bins and shelves for your custom needs
Unique lighting that draws the attention and the applause for chefs and guests
Home Control Smart App that empowers you to control your refrigerator's temperature, humidity, and more
Interiors that shine with promise (made of stainless steel) create an effect streamline and high end
AirFlow technology to provide balance and a chilly (yet welcome) reception to the food you store
Welcome silence as Thermador refrigerators drawers Soft-Close without a sound
If you want to feel like the premiere star in your kitchen, Thermador designers aim to please!
Glamourous Yet Functional
Is your kitchen functioning well for you? This inquiry may be one of the most important things to consider when investing in new kitchen appliances. If the layout of your kitchen is causing you to be less efficient, what type of appliance would be right for you? How can you bring more function without sacrificing style?
Thermador refrigerators come in a variety of sizes. The "one-size-fits-all" adage is seldom applicable to refrigerators. There is a reason why Thermador ensures chefs have custom options available for the interior (via custom shelving and bins) and different size options to benefit the exterior and overall aesthetic of a space. What layout is appealing/useful to you may not appeal to someone else. If you want to embrace your inner chef, will all your individual needs and wants, Thermador makes it possible.
Photo-Op Finish
While the list of features Thermador refrigerators have is lengthy, the time you'll spend doing menial tasks is short because of those key features! You don't have to worry about inefficiency, cold or warm temperatures causing food to spoil. Thermador refrigerators utilize tech that supports your flair for the culinary arts! Do you want to transform your kitchen into a space that shows well from every angle? Visit Avenue Appliance today to see Thermador refrigerators in all their glory or ask our associates about Thermador's One-Two-Free promo.