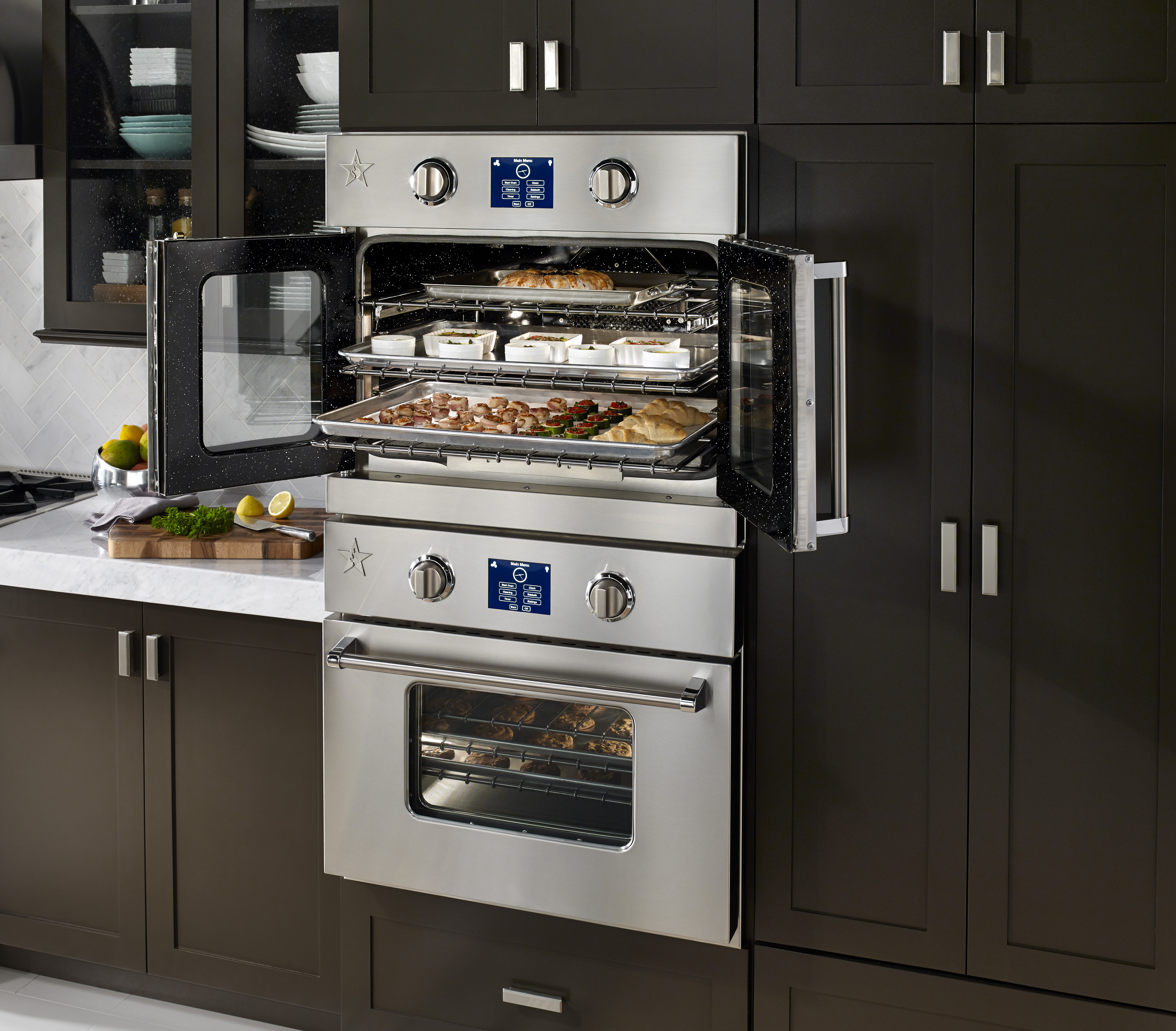 Keeping You from Being Too Blue
BlueStar is changing the way chefs shape their dream kitchen visions. How? They combine quality materials and character to create the ultimate heating source to test your skills. If your kitchen plan has left you feeling a bit blue, you can remedy that gloom with BlueStar wall ovens. Visit us today to start customizing your own!
Sharing the Specs
How do classically trained and self-taught chefs relate? Through the kitchen, of course! If you delight in creating an experience loved ones will remember, you know that involvement of the senses is a must. With BlueStar wall ovens, customization and technique entwine to entice appreciative eyes and taste testers to your creative space. BlueStar offers cooking enthusiasts:
Many opportunities to customize
Easy Function through the French Door Feature
Spacious cooking area for full-sized dishes
Temperature control and advanced tech
Gas and electric options
Colour It Beautiful
How can BlueStar wall ovens top every chef's wish list this season? It's simple. The secret ingredient is customization. When designing a welcoming space, tasteful chefs ask questions like these:
What's my style? How do I stay happy while doing what I love?
What colour palette am I incorporating into my kitchen?
Can the addition of specific kitchen appliances introduce fashion, function, and fluidity into my space?
Am I seeking to support investments that will add financial value to my home?
Will I produce quality dishes consistently because of the tools I have on hand?
BlueStar wall ovens facades offer over 1000 colours for potential customization. Not only do they allow you to choose colours, but they have different textures, trims, and knobs available. For those who have a very select vision in mind, your BlueStar appliance can be custom colour designed by you. All you have to do is send a sample of your favorite colour, and BlueStar will match it and add it to your future wall oven! If you want to embrace your unique style, BlueStar is the choice for you!
Doors to Opportunity
Unlike other ovens that cement you to a specific door type, BlueStar wall ovens go even further to deliver you custom quality. Are you a traditionalist at heart? Do you prefer the standard drop-down door? Do you find yourself leaning towards the luxurious look of French doors? Or would you appreciate left or right swinging doors because they fit your kitchen layout best?
Taste the Difference
BlueStar wall ovens have a lot of perks! Not only can they be designed to fit your space and style, but they deliver delicious results. Perhaps it's because of their enhanced touchscreens? Or perhaps, it's because of their numerous cooking modes and temp probe? Whatever the reason (or reasons) BlueStar designers know how to design wall ovens that look and perform in style and taste! Visit Avenue Appliance and stylize your kitchen today!