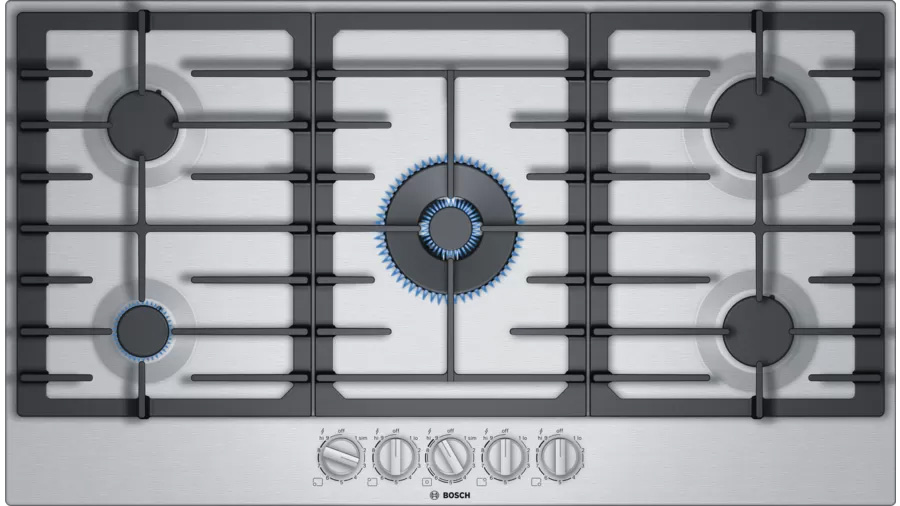 How can you provide a controlled setting to ensure your culinary delights are seen in the best light? You find the best appliance on the market to enable you to test your skillset from the comfort of your own home! All you need is some quality temp control and an adventurous spirit to help fan the fire of your cooking desire. With Bosch gas cook tops, your creative streak can grow as you dress your food to impress. Visit us today to learn more.
A Cooking Buddy that Sets Your Culinary Heart Aflame!
What makes Bosch gas cook tops indispensable in the kitchen? Is it their stylish modern façade, precision technology, or the possibilities they set before you? It's interview time. What does your Bosch gas appliance say about you?
With nine power levels set to cook your goose or whatever tasty dish you wish to try, Bosch owners don't do guesswork. They do quality control.
With SMARTFLAME tech, knowing what's needed and addressing it efficiently is part of Bosch gas cook tops owners' description. When the flame dies, Flameselect tech cuts off the gas line. Safety first!
You might be a little saucy, in a good way, of course! OptiSim dual burners can lower the heat to a soft flame for those custards and sauces you love to serve to family and friends for fondue nights and decadent treats.
What helps you fan the flame of your longing to prove your prowess in the kitchen? Is it the idea that precision is possible? Are consistency and 5-star dishes on your to-do list? If they are, you might be a Bosch gas cook top enthusiast!
You Make a Great First Impression
What all Bosch owners have in common is a goal to create the ideal environment for delectable dining and efficiency. As many chefs acknowledge, fine dining isn't just about taste. It's about delivery! How do culinary talents look in a particular light? How do the premium appliances you center your kitchen around finesse your dishes and those who frequent your happy place? Bosch gas cook tops bring any cooking space together with a flair that insightfully begs a second pass-through.
Bosch gas cook top owners understand that the finer things in life are eye-catching. Their choice Bosch appliance caters to the interior decorator within. Here are a few ways Bosch owners keep it custom when they incorporate Bosch quality into their inner sanctum.
They choose between two sizes that will accommodate their kitchen needs.
They get the first pick at three different colour options, stainless steel, silver, and black.
They choose from a Bosch series of appliances that offer easy-cleaning options, LED-lit control knobs, and enameled porcelain surfaces to help them stay spiffy while creating their masterpieces!
Impress with a Bosch Gas Cook Top
If you want to impress your guests and yourself with precision in the kitchen, Bosch gas cook tops can become your secret weapon! Contact Avenue Appliance today and discover how precision and innovation create the ideal blend for chefs everywhere!