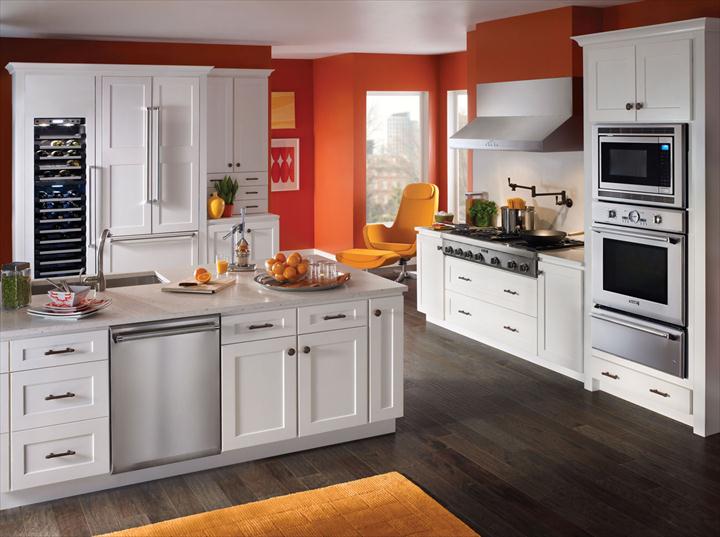 How valuable is your time and energy to you? If you wish to reserve your energy for creating top-notch dishes rather than wasting time looking far and wide for various kitchen appliances, why not just shop all in one place? You can upgrade your kitchen to luxury status by adding a Thermador full kitchen suite to your home! Every appliance can bring poise and perfection to your kitchen. For aspiring chefs, outfitting your kitchen with the best cooking aids can impact your productivity and food quality. And that's something even your guests will swoon over! Visit Avenue Appliance today to design your Thermador kitchen.
With Thermador Luxury is Built-in
How well luxury appliances like those included in the Thermador full kitchen suite cater to your tastes depends on what you value. Whether you love testing new techniques on your high-performance range or enjoy plating and serving refreshing fruit and veggies for the family, Thermador has it all! What can you gain from owning a full kitchen suite? Delicious moments with family and friends and the ability to use precision tools to facilitate your kitchen skills, whatever they may be!
Do you want to create a seamless feel throughout your kitchen? Thermador has a line of appliances that are "built-in." Without being wieldy, Thermador full kitchen suites provide you with multiple customizable solutions in:
Colour, size, style, and trim options
Organization (whether in adjustable configurations of the appliances themselves or adjusting trays/shelving in their interiors)
Types of heating methods to sharpen your cooking styles/techniques
If you love spacious high-end appliances that provide precision and facilitate consistent quality dishes, you'll love Thermador appliances!
Seeking Out Functional and Fashionable Solutions
If you've cringed at the sight of mismatched brands, colours, or inconsistent style in your kitchen, you'll understand the importance of having a Thermador full kitchen suite. With Thermador appliances, your perfectionist eye for detail in how your kitchen looks and what comes out of your kitchen is sure to gain you a 5-star rating from your friends and family.
Be on the lookout for premium appliance refrigeration options for kitchen suites that embrace technology like:
The FarmFresh system
AirFresh filtering
Energy Star Certified
These refrigeration system features enable you to boost your reputation as a quality cook because they seek to preserve the fresh ingredients you use to make delicious entrees! Refrigerator selections designed to neutralize odors and make you curious about features like VitaFreshPro, and MultiAirFlow are worthy of a closer look!
Suites for Every Kitchen
How can you give your family and friends a reason to faint from excitement when they enter your kitchen? It's all about what can make life a little sweeter with a Thermador full kitchen suite! Visit Avenue Appliance today and discover your happy place!