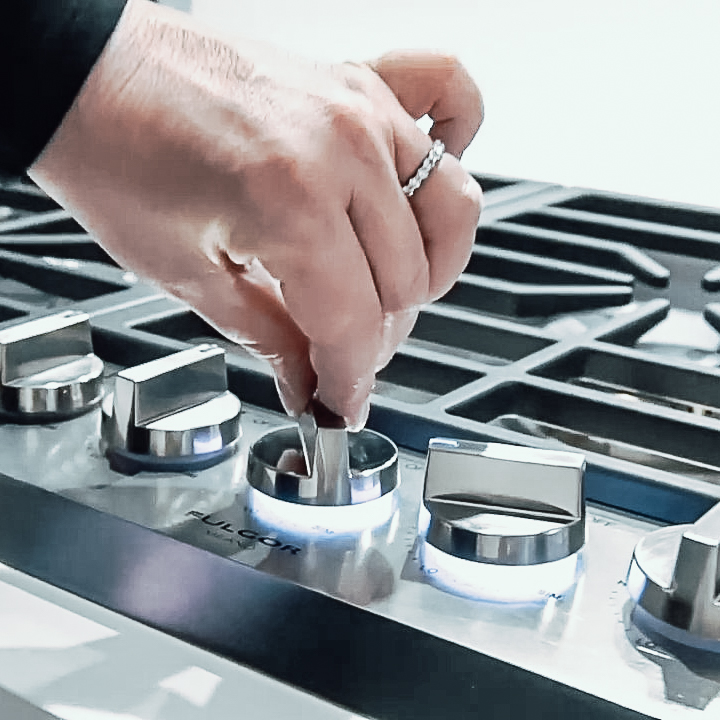 Rather than start the conversation in battle formation, let's turn this around and ask which appliance do you prefer and why? If you aren't sure which appliance choice will make sense for you, read on chef! Visit our experts today for more help deciding.
What People Look for in their Heating Element
As you approach the website or storefront of your favourite appliance store, Avenue Appliance, what questions run through your mind first? Here are a few glimpses into many a chef's minds when they decide to update their kitchen with a Fulgor Milano range top or cooktop. They might ask:
What amount of kitchen space am I willing to share with my appliance?
How much space do I have to use to keep my cooking area looking tip-top and not "too much?"
What type of use do I expect to get out of my heat source?
What appliance is more convenient for my cooking needs?
Is the heat source reliable, is it made of quality materials?
How much money do I have to spend, and will it be a wise investment for me at this time?
These questions can help you get a clearer picture of what you are looking for.
Raving Range Top Reviews
When deciding on whether to purchase a range top or choose a different heating method, it helps to look at it from an objective standpoint. Let's see the benefits!
Fulgor Milano range tops are high-quality appliances that can:
Be built into your space
Boast of durability and longevity
Be the choice for industrial-style kitchens because they are considered hard-working machinery for multiple meal preps
Give you the option for gas or electric
Fulgor Milano range tops are usually on the larger side because they focus on giving you more cooking area for multiple cooking tasks. So if you are lacking in space, it could be time to get creative or look at Fulgor Milano cooktops instead.
Criteria for the Best in Cooktops
Cooktops appeal to chefs for other reasons. The smaller size and space they appropriate are appealing to those who prefer minimalistic style or (just have a smaller space to work with!) High-quality appliances should be helpful not a hindrance to our creativity in the kitchen!
Offer chefs electric, gas, or induction heating options
Be simpler to clean up
Take up less space on a countertop
Avoid potentially harmful situations for chefs with young children (or pets) because their controls are on top of the unit, not within reach of little ones
Offer a sleek, understated look of elegance and feature unique dial/button options
Find a Fulgor Milano Range Top or Cooktop for You!
Chefs choose Fulgor Milano range tops and cooktops because they offer quality, durability, and a dependable heating source. High-quality cooktops can offer some great benefits to those chefs with smaller spaces. Have more questions? Contact Avenue Appliance! They can give you the ultimate rundown on the "whys" or "why not," for any appliance you wish to invest in!