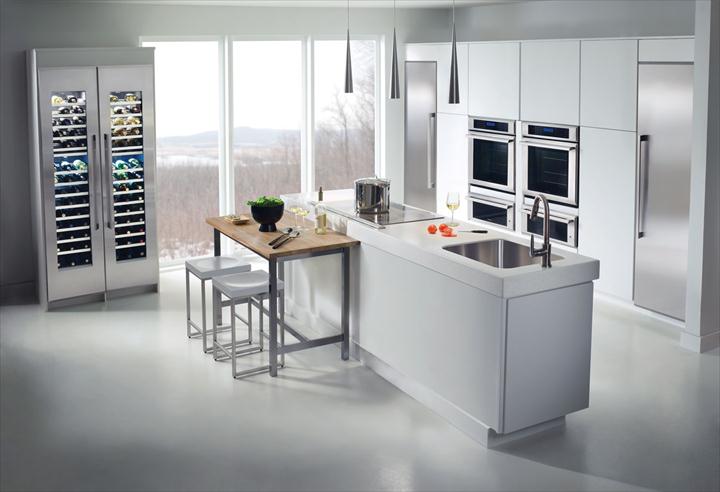 The kitchen is the center of our home, where we gather and create culinary masterpieces. It should be inviting and comfortable while making a personal statement. Thermador refrigerator units are a perfect choice for customizing your kitchen; they come in a variety of sizes in built-in and under the counter options. Thermador's Freedom® Collection lets you choose your own handles furthering your personal imprint.
Benefits of a Thermador Refrigerator
Thermador prides itself on being an innovator in the refrigeration industry. They have developed new features that allow you to personalize the configuration of shelves and produce bins to fit your individual needs while keeping food properly stored and at your fingertips.
Key features include:
Theater Lighting: Your food items will get top billing with the innovative new lighting system that brightens your refrigerator interior, even the way, way back.
Delicate Produce Bins: Designed to protect your precious assets from bruising, vegetables, fruits and herbs will stay protected and fresher longer with Thermador produce bins.
Open Door Assist: Thermador refrigerator built-in and under counter models feature sleek, handle-less designs. The Open-Door Assist feature enables you to push to open the doors instead of relying on obtrusive handles.
Thermador Refrigerator Built-In
Thermador features built-in refrigerators, freezers and wine columns including:
Freezer Columns: Thermador freezers come in 18", 24" and 36" columns enabling you to transform small areas into useable space. They feature right, left and reversible doors.
Refrigerators: Thermador refrigerators feature bottom freezers in 24", 30", 36" options with right, left and French doors.
Wine Columns: Thermador's 18" and 24" wine columns have metal and dark wood shelving and LED side lighting.
Under-Counter Units
Thermador refrigerator under counter units maximize space and efficiency, including:
Double Drawer Refrigerators: These units are designed to integrate into any 24 3/16" depth cabinet and are available in stainless steel or custom panels.
Wine Cabinets: Thermador wine cabinets keep your wine at the optimal temperature for storing and serving. The feature glass doors with either stainless steel or custom panels. They feature LED lighting and touch controls.
Creating a Beautiful Kitchen
Thermador enables you to create a beautiful, elegant space in your kitchen. Their appliances are made with unparalleled craftsmanship and with a variety of options that will help you achieve your culinary desires. Contact us today, and we will help you select a Thermador refrigerator that is designed to turn your kitchen into culinary adventures.