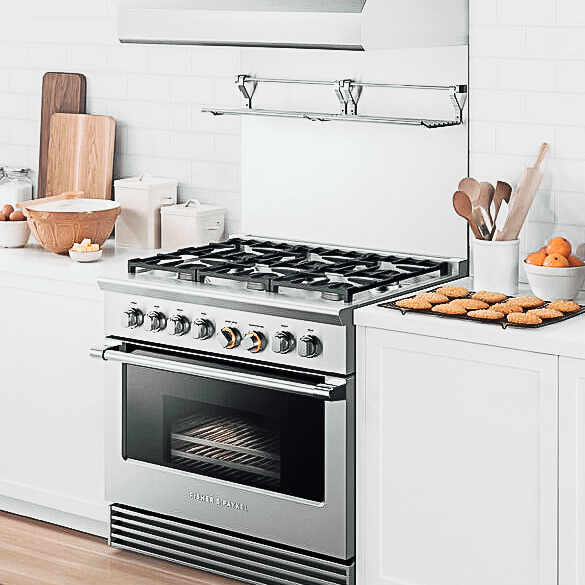 What Kitchen Style Do You Idealize?
If you love to indulge in culinary creativity and engage your friends and family in your delicious offerings, your kitchen needs to reflect your style. It should be an inspirational space to help you share your love of cooking. Fisher & Paykel ranges can be just the right choice for any home chef! Visit us today to learn more.
Uniquely Custom-fitted to Your Tastes
For the true foodie interactive experience, setting, lighting, plate presentation, and taste combine to create one transcendent moment. Fisher & Paykel range designs treat the eye and the chef to an experience they can appreciate. What custom options do they hold for you? Let's explore the Fisher & Paykel range styles below!
Procuring the Professional
Fisher & Paykel ranges profess their design devotion with the Professional series. Clever LED halo-illuminated dials provide heat information at a glance, while the exceptional power of the burners gives refined performance. If you appreciate being abreast of what exactly is happening with your range, you'll love the precision and performance you get from the professional style!
Classic Lines with Colourful Choice Options
Include a nod to the historical combined with modern convenience to your kitchen by selecting the classic style! Who says you can't have a mix of classic with the new? Fisher & Paykel classic ranges offer the perfect blend of a heritage aesthetic with modern performance. Choose by colour and by preferred cooking performance, so the right appliance becomes the centrepiece of your unique kitchen.
Conscientiously Contemporary
Contemporary style ranges have a timeless minimalist appeal with clean lines. If your focus is on drawing your sightlines through your kitchen rather than halting the conversation at one centerpiece, contemporary is your go-to. You might be a contemporary enthusiast and the contemporary line may be the perfect match for your modern kitchen.
Do you prefer the glistening gleam of stainless steel reflecting your cooking prowess to guests and family? Or do you like the bold or understated colour choices that embrace a cozy home feel? It's your choice!
Your Cooking Style Methodology
Fisher & Paykel ranges can support your need for consistency and excellence by using heating methods custom catered to your skillset. How? By providing chefs the heating element necessary to cook a feast for the eyes and the palate!
With quality craftsmanship machinery at your fingertips, you choose the type of range you are most comfortable using. The Fisher & Paykel range selection uses induction, convection, and gas combinations to ensure maximum results.
No Risky Business
Investing in the upper echelon of quality that Fisher & Paykel ranges offer gives peace of mind. With a 2-year warranty that allows you to rest in the fact that your investment is a wise one. Contact Avenue Appliance and discover the wisdom of choosing Fisher & Paykel for your dream kitchen.