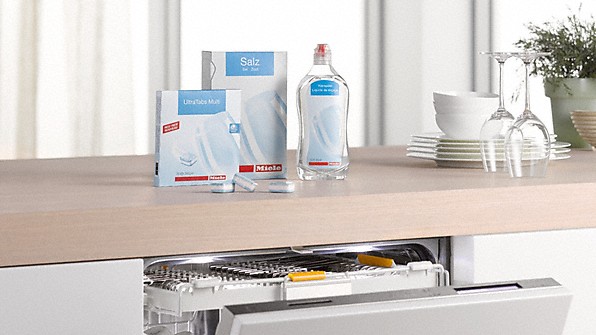 For over 110 years, Miele premium appliances have been designing and manufacturing appliances that feature elegant designs, top technology features and superior performance. Each appliance is made to last, and Miele makes it even easier to keep your premium appliances clean and running at peak performance with specially formulated cleaning products. Miele brand dishwashers, ranges, coffee makers and even cooktops will stay well preserved and in pristine condition for many years to come when you use Miele appliance cleaners.
Does the Right Cleaning Solution Really Matter?
The answer is yes! You wouldn't use a caustic solution that would potentially harm marble or granite, so the same care should be taken when it comes to properly cleaning your Miele appliances. Miele cleaning products have been specially developed and tested in the company laboratory to ensure that each cleaning product keeps appliances functioning at optimal levels while keeping them looking factory-new and flawless for years to come.
Here are some of the specially-formulated Miele cleaning solutions guaranteed to keep your alliance looking and performing like brand new.
Dishwasher Care: The Freshener keeps your dishwasher smelling like lime and green tea and neutralizes unpleasant odors. Just attach the hanger to the dish rack and forget it for at least 60 wash/rinse cycles. The DishClean product removes limescale and other deposits; it keeps door gaskets and seals pliable for best operation.
Stainless Steel Conditioner: Miele appliances Stainless Steel Cleaner and Conditioner make it easy to remove drip marks, fingerprints and smears to keep your appliance looking their best; the cleaner not only cleans but provides a protective coat to prevent repeated soiling.
Oven Cleaning: The Miele Appliances Oven Cleaner uses a gel-like grease cutting agent that keeps ovens clean easily quickly without the chemical smell.
Ceramic Top Cleaner: Miele appliances has created a scraper for cleaning ceramic cooktops, removing dried food without damaging surfaces.
Cleaning Tablets: Descaling Tablets are great for ovens, cookers, coffee machines and steam ovens. It reduces deposits, and limescale without a chemical resident. Cleaning tablets keep coffee machines clean, by thoroughly removing coffee resident and oils with a gentle, specially designed formula.
Maintain Your Miele Appliances
If you're ready to upgrade your kitchen appliances, and keep them looking showroom new for years to come, visit us for the top choice of high-end Miele appliances and the specially formulated cleaning products that keep them functioning as good as the day you purchased them.