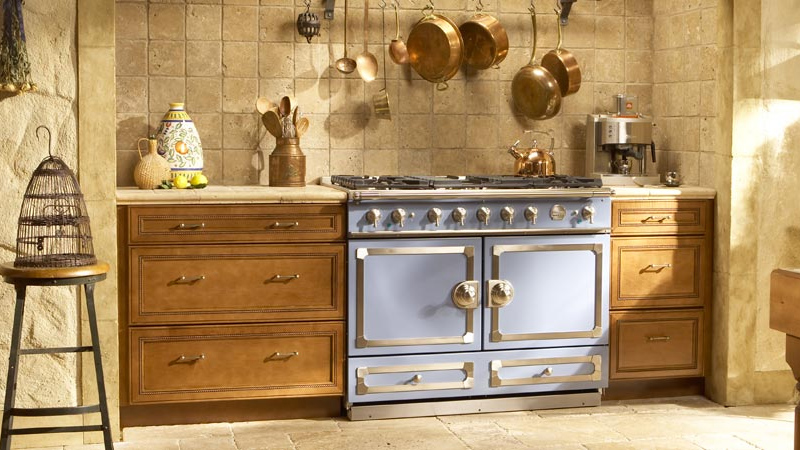 Spring is such a wonderful time of year! Everything becomes awash in the colours of spring as flowers begin to bloom and trees start budding, the grass turns green and everything looks bolder and brighter. Spring is also a time of change and new beginnings. In keeping with a spring theme, how about some colourful kitchen appliances for your Edmonton home?
Bold and Beautiful
Stainless steel is still the most common choice for kitchen appliances these days, but wouldn't it be fun to be a trail blazer and stand out from the crowd rather than simply blending in? Today's appliances are workhorses designed to simplify your Edmonton lifestyle, but that doesn't mean they can't be bold and beautiful! Let's introduce you to some colourful inspiration with outstanding features that will make your kitchen the talk of your neighborhood.
The CornuFé by La Cornue
The CornuFé is not just a stove, it's a masterpiece! Brilliant colours such as the Light Country Blue featured in our showroom will make this cooker take pride of place in your home. While it looks amazing, let's not forget some of the wonderful features:
Five professional burners
Doors that open laterally for easier handling
Large drawer to accommodate all of your favourite cooking accessories
Did we mention all of the gorgeous colours?
BlueStar® Professional Ranges
Kitchen appliances designed for home cooks that want to cook like the pros, BlueStar ranges are constructed from commercial-grade stainless steel with features to match that any professional chef would love. With an incredible array of colour choices, creating your new bold and colourful spring look is easy as can be. Stop in and see the gorgeous bright yellow in our showroom. Some of the highlights include:
Restaurant quality performance
Ultra-rapid boil and near instant searing with powerful burners
Extra-large convection oven
Built to handle whatever the most demanding cooks can dish out
Fulgor Milano Ranges with Italian Spirit
Okay, you have to admit that just saying, "Have you seen my new Fulgor Milano?" sounds pretty awesome. Wait until you see your neighbours' faces when they take in the gorgeous green colour, creative design and concept that are all packed into these ranges. Cook with the excellence of Italian design featuring:
Single or double ovens with multi-function and dual convection
Dual flame burners for precision cooking
Over sized ovens
Engineered quality
Are you ready to inject some of the freshness and beauty of spring with bold and colourful kitchen appliances for your Edmonton home? Contact us or stop by the Avenue Appliance showroom to see just how incredible these items look and learn more about their top-quality features. We bet you'll love them just as much as we do!