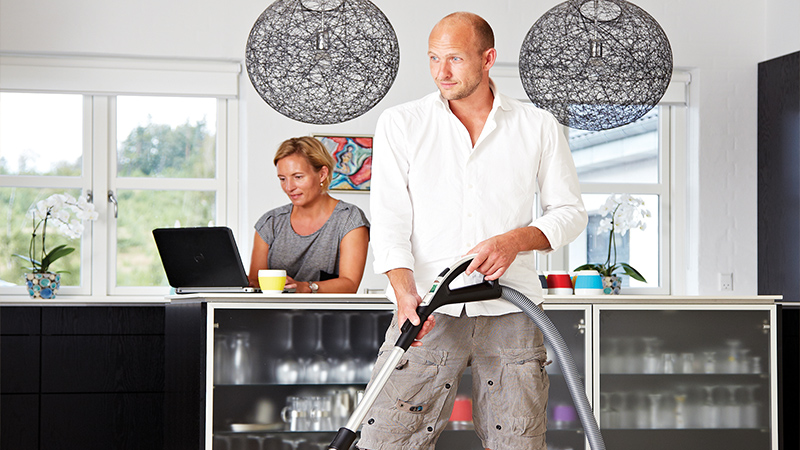 Vacuuming your Edmonton home can be a real drag. Literally! Dragging a canister-style vacuum by the hose from room to room while trying to get through your cleaning routine adds a lot of extra work to the process. Even uprights get pretty heavy and although they start off powerful, it seems before long they barely pick up any dirt. It's your Avenue Appliance team to the rescue with Nilfisk central vacuums in Edmonton!
Central Vacuums with More Everything!
Even if you already have a central vacuum system in your Edmonton home, you'll be amazed by what Nilfisk has to offer. For those of you hauling around traditional vacuums, we'll just say hang tight because you're about to be blown away!
Most central vacuum systems provide up to three times more suction power over other vacuum cleaners, but Nilfisk takes that even further with as much as 20 percent more power than other central units. This means cleaner floors in a lot less time but we do recommend placing small children above floor-level when in use! In all seriousness, greater power does mean better cleaning in less time, but you can wait until small children are asleep if you like since the power unit is installed out of sight in the basement, garage or utility room, making operation very quiet.
A big complaint with central vacuums is that the hoses are just a bit too short to reach awkward areas or tall ceilings. Nilfisk hoses come with less weight than many others, but are offered in lengths of 33 or 35 feet, perfect for reaching under furniture and up into high corners. Consider one for each level of your home to make life even easier!
HEPA Filtration and Bagless Operation
For added air quality improvement, Nilfisk central vacuums are equipped with HEPA filters at the exhaust, meaning there is no return of fine particles to your air and no buildup of dust and dirt around the power unit. Although you can opt to use disposables, they also come with an easy to clean filter for a bagless option. This means even more savings!
Accessories Designed to Last
With a three year warranty on the European-designed accessory kits, you can be confident the tools you need to clean your home are up for the job. There are a wide variety of accessories available to meet even the toughest of cleaning challenges while making your tasks easier.
Nilfisk central vacuums offer Edmonton homeowners 10 and 15 year warranties on the motors, which means they believe in the quality of parts and workmanship in their products. You can feel confident that your investment will pay for itself many times over. At Avenue Appliance, we can help you choose the right central vacuum and accessories for your home. Visit our showroom or contact us for more information.