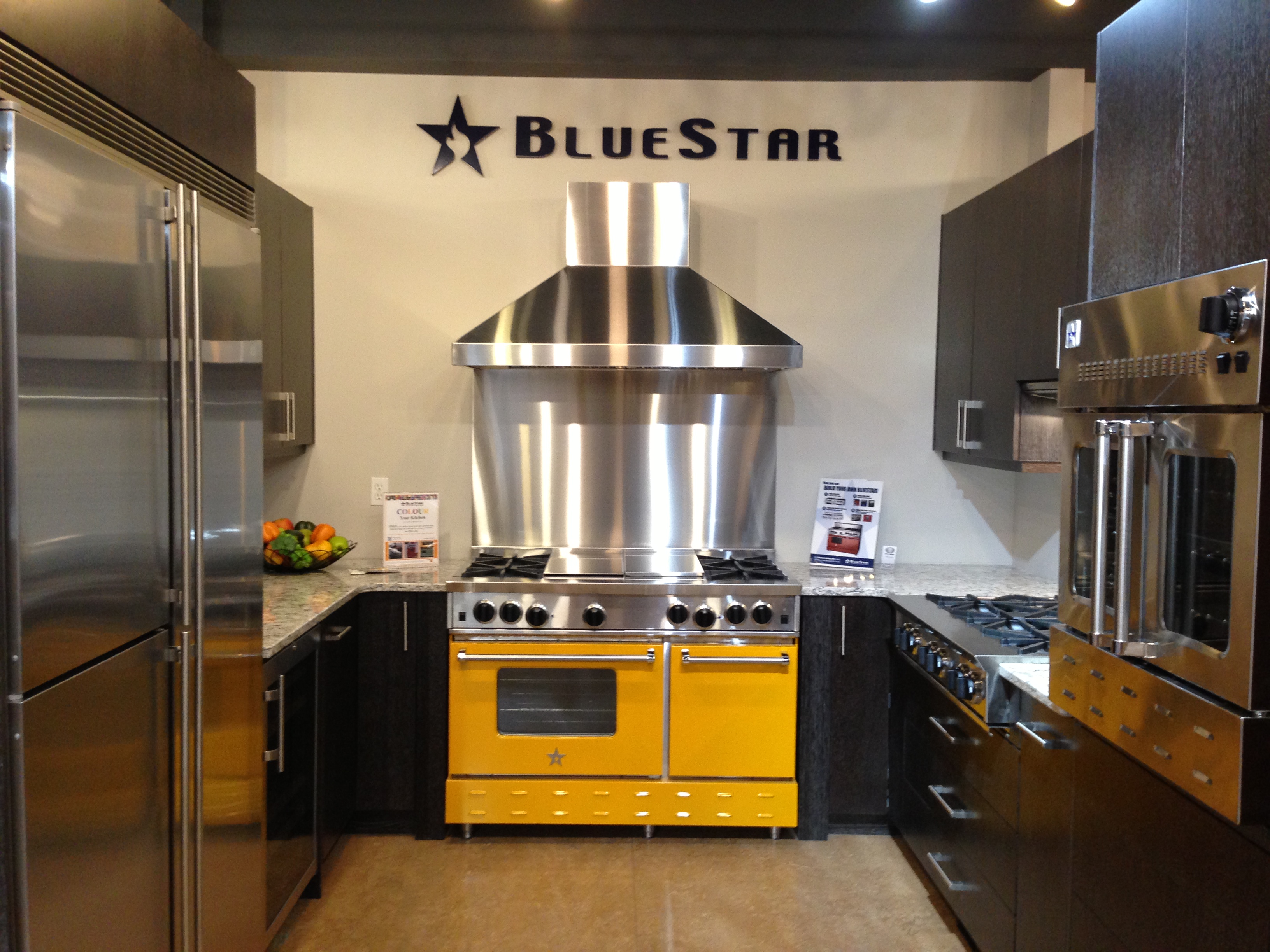 You can now experience the power of a BlueStar Range in our Show Room. We are proud to announce the completion of our BlueStar kitchen boutique. BlueStar cooking products are designed for home chefs who would like restaurant-quality results in their own kitchens. Built with the highest-quality materials and the distinctive workmanship that comes from 130 years of expertise, BlueStar turns up the heat on home cooking with a fully customizable line to suit the specific cooking needs of the accomplished home chef. BlueStar premium cooking products deliver restaurant magic to the home kitchen.
True restaurant kitchen performance includes a 22,000 BTU Burner perfect for achieving a rapid boil, high-heat sear, or the perfect saute. Fully customizable burner configuration Heavy-Duty Precision Controls – Push-to-turn burner knobs with multiple settings provide the precise temperature control chef's desire. Gentle Simmer – BlueStar's 130 degree simmer burner features precise temperature control and flame disbursement, perfect for gently warming delicate soups and sauces.
Superior Oven Cavity – The home baker's restaurant dream – all ovens will accommodate an 18 x 26 commercial baking sheet. Convection Oven System – BlueStar's unique oven baffle design and convection fan system result in even heat distribution for precise, accurate baking.
Durable Construction – constructed of super-quality, commercial grade stainless steel, BlueStar products are built to last and designed to withstand the rigors of the busiest home kitchens. BlueStar products are proudly handcrafted in the USA in Reading, Pennsylvania factory.
190 colors – BlueStar lets you unleash your inner designer with ranges, wall ovens, and hoods available in a painter's dream of color shades that complement any kitchen décor
BlueStar all gas ranges include 24", 30", 36", 48" and 60" sizes. Range tops also available.