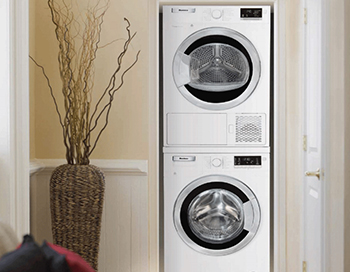 Clean Dream Space
How do you keep your clothing clean and your space neat at the same time? You find appliances that work diligently for you in design and function. Blomberg washing machines come in compact sizes that can fit seamlessly into any space. For those who have small or large laundry rooms, Blomberg washing machinessuit any vision of convenience and clean energy. Compact quality washing machines keep energy use low and space-saving on repetitive spin cycle! It's a win-win! Check out these cutting-edge laundry machines in person at Avenue Appliance. Contact us today.
Sweet-scented Harmony
Quality appliances should focus on providing efficiency and consistency during every use. Compact washing machines center around creating harmony with:
How are those goals achievable? It's all about thinking ahead by affording conscientious users access to energy-efficient wash settings. Who can't be responsible when the right tools are available?! Blomberg washing machines embody what energy saving is all about. In comparison to similar washing machines, Blomberg's machines expend less energy while producing high-quality results.
Blomberg washing machines are sweet music to the ears of homeowners everywhere with their premium features that are customizable to any lifestyle. Your washing machine should accommodate your day-to-day routines. If you find washing clothes adds burden rather than lightens your load, it's time for a quality check, and changes! Blomberg washing machines favour your schedule and maintain a squeaky-clean reputation with every wash!
Features that Fold Well
If you are seeking out ways to improve your efficiency, you are not alone! Highly productive people habitually find ways to:
manage energy
find repeatable shortcuts
steer clear of distractions
avoid multitasking
You are not a machine. You don't have to be one. That's what Blomberg washing machines are for! Another key component in becoming a highly productive (and less stressed) individual is to delegate and break tasks into smaller, more manageable segments. Washing machines should be reliable helpers. Here are some of the features that allow compact Blomberg washing machines to perform important tasks, so you don't have to:
Auto water adjustment
Sensor detecting load and textile function
Quick clean
Shorter depth
And more!
Auto water adjustment keeps conservation at the forefront. This special feature adjusts automatically to account for the load size. The lower the amount of water intake, the better!Sensors in smart washing machines adjust water temperature, set the time for the wash, and determines the number of rinses needed. You simply select the load's soil level so the sensors can get to work!
Do you need a quick clean in a pinch? Owners of Blomberg washing machines can seek out the speedy clean programs available. You'll find out just how quickly your favorite frock can get a refresh!
Compact Machines, Full Size Quality
Premium compact washing machines do not compromise on quality. Blomberg washing machines boast a larger drum size but a shallower depth. You get the benefits of space-saving without sacrificing load size! Contact Avenue Appliance today to find out how Blomberg washing machines compact efficiency, energy-saving programming, and cleaning power into one versatile and mighty package that fits perfectly into your home.