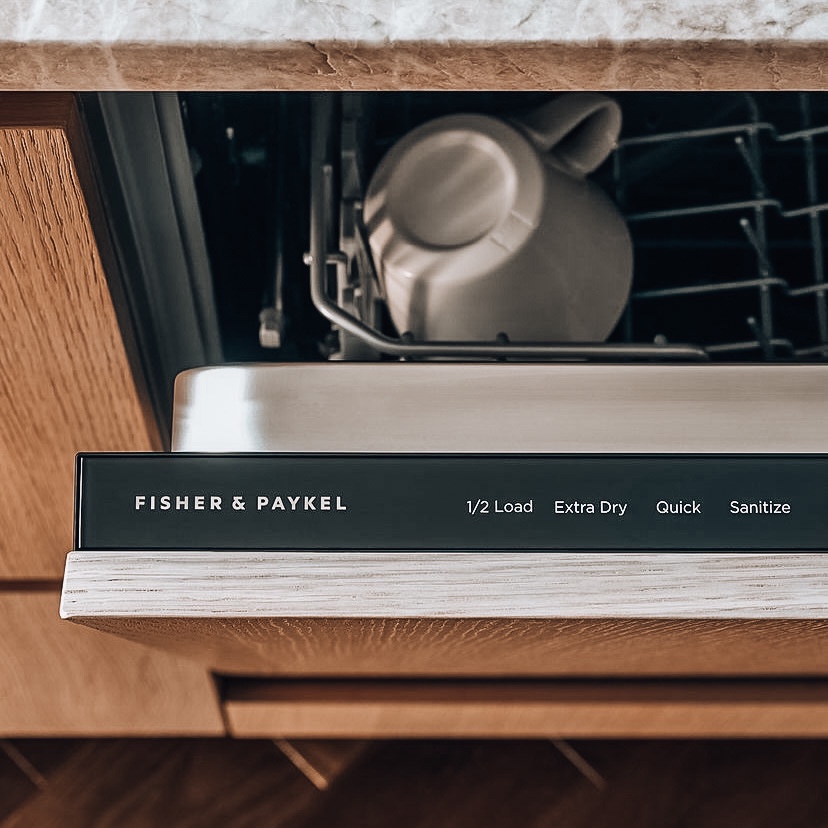 Delighted at Dishwashing?
It seems an impossible idea, doesn't it? That one could be excited about dishwashing. And yet when people use Fisher & Paykel dishwashers, that idea is not too far from reality! If you love to entertain and share your culinary talents, or strive to have sparkling dishes, Fisher & Paykel dishwashers are the appliance of choice! Visit us today for a demo.
Topping Your Wish List in Sparkling Relief
Once you decide to lay down the dishrag and tackle other household tasks, Fisher & Paykel makes it easy for you to transition. You don't have to strain your muscles or wallet when the ideal dishwasher saves you labour and energy costs. With features that make every homeowner feel luxurious, your high-quality dishwasher helps you lounge in leisure with the assurance your dishware will get clean!
Sanitizing for Sanity
Life in the modern age is busy and a bit chaotic. The kitchen has become a space where chatter, laughter, and delicious foods linger. To help keep calm in the chaos, decluttered counter spaces, high-end design, and tech blend seamlessly, creating a place where people enjoy gathering and spending time together. Fisher & Paykel dishwashers help facilitate what makes you happy with design styles and configurations that fit your lifestyle to perfection.
Refined Features with a Customized Clean
Whether you like to entertain or not, how your kitchen works for you is of the utmost importance. Why? Because it's a reflection of you and your lifestyle. With your needs in mind, Fisher & Paykel dishwashers offer custom dishwasher configurations such as:
Single Drawer
Double Drawer
Drop Door
Single drawers easily integrate into smaller kitchens while doubling as functional cleaning companions. Larger kitchen spaces can benefit from two Single Drawers or Double Drawers. Homeowners add aesthetic interest and functionality by incorporating extra dishwasher drawers to keep dishes sanitized and ready for social gatherings.
And if you love the classic seamless look of drop doors on your dishwasher, Fisher & Paykel keep it simply beautiful with a design that speaks volumes!
Endeavoring to Embrace Your Inner Style
Fisher & Paykel dishwashers offer:
1) The Integrated
This option takes seamless design beyond your imaginings. Minimizing gaps, offering facades that blend with your kitchen's cabinetry, the integrated style provides clean lines and color flow throughout your space.
2) The Contemporary
How do you keep it cohesive in your kitchen? You add appliances that match and make your life a little easier! You can expect that with the Contemporary DishDrawer option, slim handles, solid lines, and a minimalist facade will add to your space in understated ways!
3) The Professional
Professional style appliances embolden any beginning chef with the practicality and durability to inspire delicious dishes for years to come! A Professional-style dishwasher says confidence and charisma with a flare for longevity.
Your Dishwasher Contact
Do you know who else keeps it professional? Your Fisher & Paykel dishwasher dealer! Contact Avenue Appliance today and discover your ideal style.